The Moon is in the Rohini Nakshatra of the zodiac sign – Taurus. Today, Moon is exalted, Venus is in its own sign & Mars too, is in its own sign. Rahu in the 1st House in opening kundali is not considered good.
Tomorrow is Power Grid's listing.
In Navmansh Kundali, Mercury and Mars conjunction may keep the banking sector in news. The weightage is zero today; do timepass, the days ahead are smooth for operations.
From 9:15 to 12:25, the time slot may be positive.
From 12:25 to 14:15, Nifty may lose strength.
From 14:15 to 15:30, there may be a short covering at Nifty; however, also remember that the day's weightage equals to zero.
For detailed personalised prediction email us on stockmarket@ganeshaspeaks.com or call us on +91-9909941816
Gujarati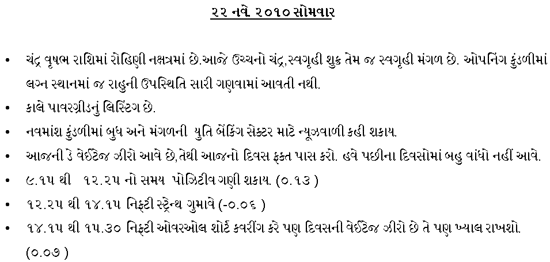 Hindi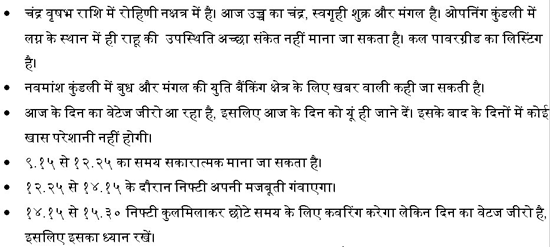 For further details, please contact customer care.
Telephone: 079 65221416
Mobile: +91 – 9909941816
Email: stockmarket@ganeshaspeaks.com