Consider 10 minutes plus and minus in each prediction and act accordingly.
Ganesha advises you to compare the next prediction with the prediction of the previous time slot.
Like Ganesha had predicted earlier on 4th October, 2010 that while some days in October would be too favourable, some would be extremely unfavourable, and did you notice? It happened just like that.
Ganesha had given certain dates to you for intraday trading, and you must have noticed that the market had behaved as Ganesha had foretold for those dates.
8 (-16 points), 13 (143 points), 14 (-56 points), 15 (-114 points)
Ganesha had sighted the importance of the past zero weightage in the first prediction of October. Friends, since then NIFTY has been up and down by just thirty three points. Did you gain anything during these fifteen days?
Strictly on the basis of astrology, these predictions are calculated one week in advance. Also, you can see that even when the statistical data of gold price, crude oil price, inflation, FII, DII or IIP are not taken into consideration, the predictions are very accurate.
Ganesha always foretells for the current trend, so it doesn't make sense if you lose patience when it takes a day or two here and there to turn them into reality. You must understand that it is a business, and you have to be, if not more, as patient and calm as any other businessman.
Ganesha says that when the market will open, NIFTY will be steady and at about 10:20 it will go down.
Along with the PDF you receive every Saturday, read carefully and understand the weightage that Ganesha has indicated in the bracket.
During 14:15 to 14:40 NIFTY will freeze at a certain point.
For detailed personalised prediction email us on stockmarket@ganeshaspeaks.com or call us on +91-9909941816
Gujarati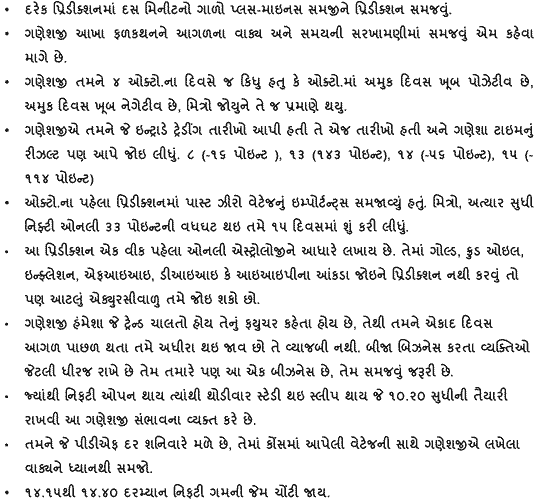 Hindi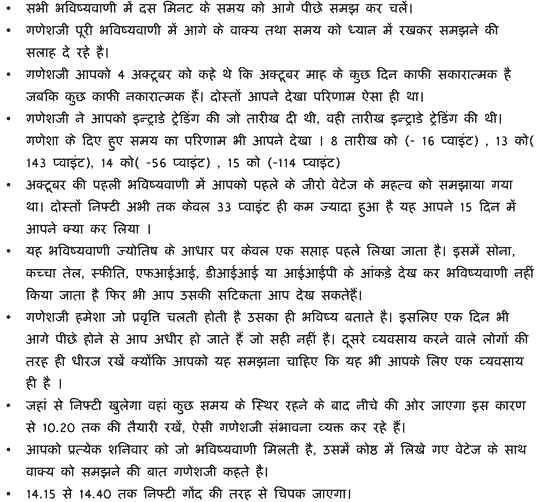 For further details, please contact customer care.
Telephone: 079 65221416
Mobile: +91 – 9909941816
Email: stockmarket@ganeshaspeaks.com