Consider 10 minutes plus and minus in each prediction and act accordingly.
Ganesha advises you to compare the next prediction with the prediction of the previous time slot.
Like Ganesha had predicted earlier on 4th October, 2010 that while some days in October would be too favourable, some would be extremely unfavourable, and did you notice? It happened just like that.
Ganesha had given certain dates to you for intraday trading, and you must have noticed that the market had behaved as Ganesha had foretold for those dates.
8 (-16 points), 13 (143 points), 14 (-56 points), 15 (-114 points)
Ganesha had sighted the importance of the past zero weightage in the first prediction of October. Friends, since then NIFTY has been up and down by just thirty three points. Did you gain anything during these fifteen days?
Strictly on the basis of astrology, these predictions are calculated one week in advance. Also, you can see that even when the statistical data of gold price, crude oil price, inflation, FII, DII or IIP are not taken into consideration, the predictions are very accurate.
While you need to be careful during the dates 18th, 19th and last week of the month, you will be able to hold the psychological figure for rest of the dates.
The Sun has entered its own deblited sign, and as a result pharmaceutical, energy, tobacco and government taking sector will remain in news.
Ganesha had asked you to avoid any BTST or PTST. Now, you must have understood the importance of that advice.
From 11:35 to 13:20 NIFTY will display mixed pattern.
With frequent changes in pattern, NIFTY will retain strength from 13:20 to 15:30 and will feel the selling pressure at the end.
For detailed personalised prediction email us on stockmarket@ganeshaspeaks.com or call us on +91-9909941816
Gujarati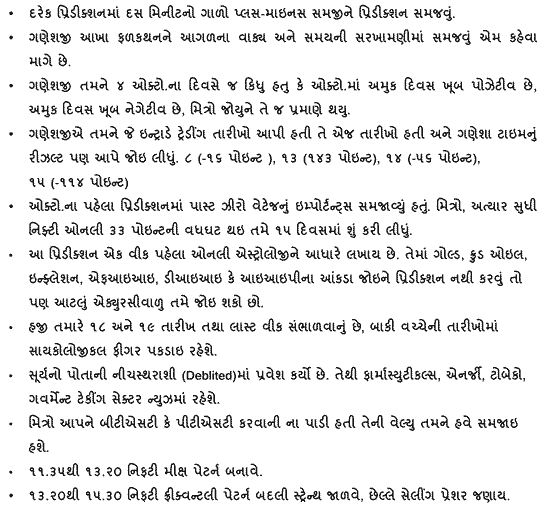 Hindi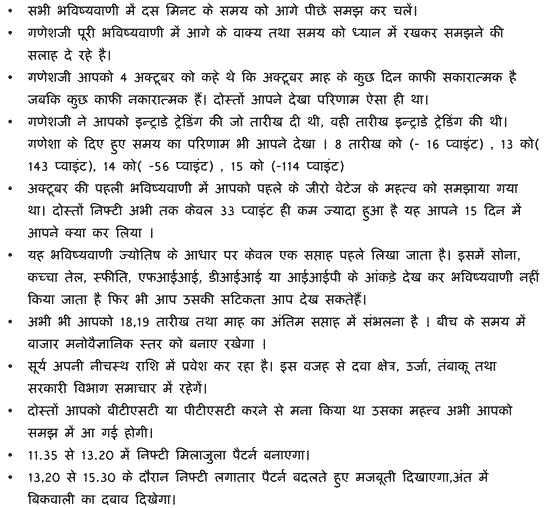 For further details, please contact customer care.
Telephone: 079 65221416
Mobile: +91 – 9909941816
Email: stockmarket@ganeshaspeaks.com