Consider 10 minutes plus and minus in each prediction, and act accordingly.
Ganesha advises you to compare the next prediction with the prediction of the previous time slot.
Refer to Ganesha's article in the same column in the yearly graph overview, 2010 and see what we had predicted for the period between 20th November, 2010 and 6th December, 2010 and take position accordingly. Also refer to the December 2010 PDF file.
Although our astrologers do the predictions one week in advance, they are accurate. Ganesha advises you to make the best use of them.
Take Ganesha's alerts & warning seriously, and take optimum advantage of astrology in these matters.
Deal as per your wishes till 6th December, 2010. After that, Ganesha will guide you about the profits & losses, daily. If you do not square-off your position on that particular day, there is no guarantee that you may come across the same price later on. The market may be highly fluctuating on both the sides.
Sun has entered the zodiac Scorpio after transiting through it's own debilitated sign.
From today, Sun and Mars are in conjunction. This indicates an 'Angarak Yog'. Whoever has this yog in their horoscope will need to keep a check on their anger and avoid major deals at the stock market.
The Moon is in the zodiac sign Pisces, the Lord of which is Mercury.
Gujarati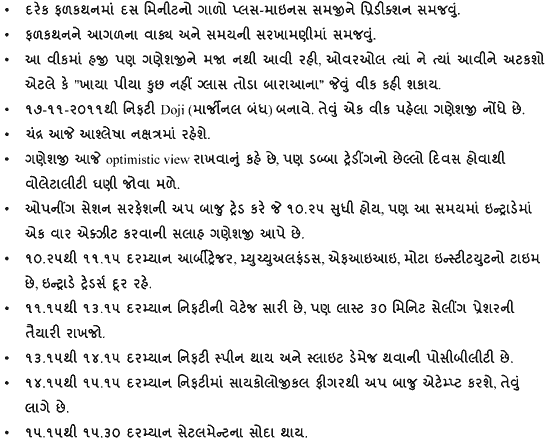 Hindi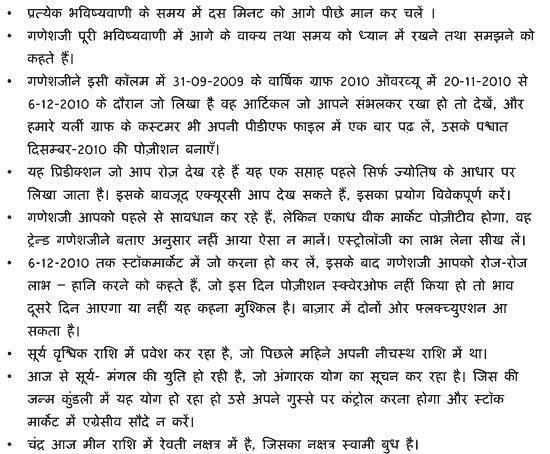 For further details, please contact customer care.
Telephone: 079 65221416
Mobile: +91 – 9909941816
Email: stockmarket@ganeshaspeaks.com