Consider 10 minutes plus and minus in each prediction, and act accordingly.

Ganesha advises you to compare the next predictions with the predictions of the previous time slot.

December's
highly volatile, widely fluctuating dates are: 7 (-19), 8 (-72), 16,
17, 21, 22, 23, 24
During
this week, the trading is likely to be only for four days, so make a
note of it.
As
per last Thursday's prediction, you must have noted that because of
Mars-Rahu, Nifty was highly volatile and unpredictable.
Today,
Moon is in the Revati Nakshatra
Coming
week is not good for personal horoscope. Those with the sign
Sagittarius, may see a gathering of all the fire elements viz. Sun,
Rahu, Mars and Mercury in their zodiac sign. And this combination is
not at all favourable for the nation's kundali. Ganesha warns you of
mishaps.
It's
the best day for jobbers, arbitragers, speculation and playing a
blind game.
For detailed personalised prediction email us on stockmarket@ganeshaspeaks.com or call us on +91-9909941816

Gujarati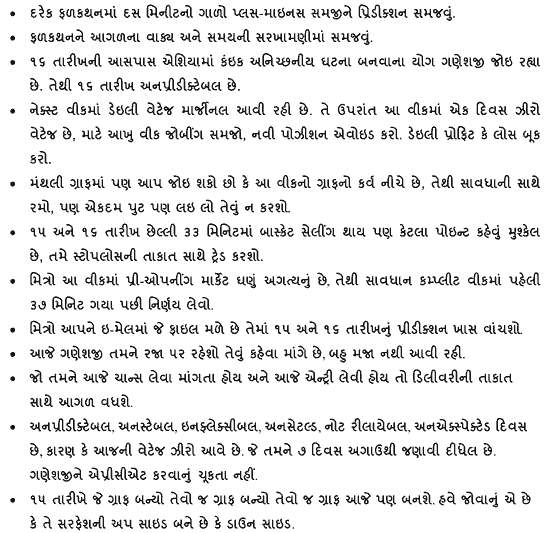 Hindi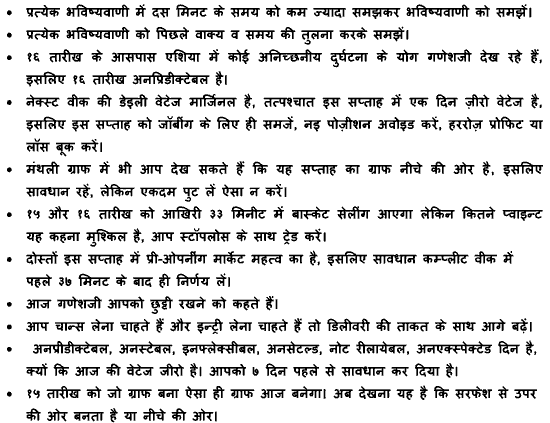 For further details, please contact customer care.
Telephone: 079 65221416
Mobile: +91 – 9909941816
Email: stockmarket@ganeshaspeaks.com