Consider 10 minutes plus and minus in each prediction, and act accordingly.

Ganesha advises you to compare the next predictions with the predictions of the previous time slot.

December's
highly volatile, widely fluctuating dates are: 7 (-19), 8 (-72), 16,
17, 21, 22, 23, 24
During
this week, the trading is likely to be only for four days, so make a
note of it.
Last
Wednesday Ganesha had predicted that you may earn a small amount
after a lot of intraday. You must have practically experienced this.
Today,
the Moon is in the same Nakshatra and zodiac sign, but debilitated
in the Navmansh Kundali. This may result in the loss of power.
Today's
and tomorrow's closing time is not at all reliable, warns Ganesha.
Follow His advise or you may have to regret your decision.
From
11:05 to 11:40, and from 15:10 to 15:30, there are chances that the
market makes a similar pattern.
For detailed personalised prediction email us on stockmarket@ganeshaspeaks.com or call us on +91-9909941816

Gujarati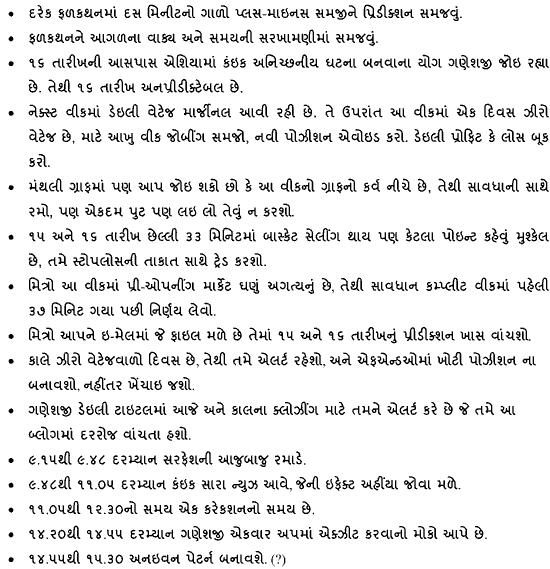 Hindi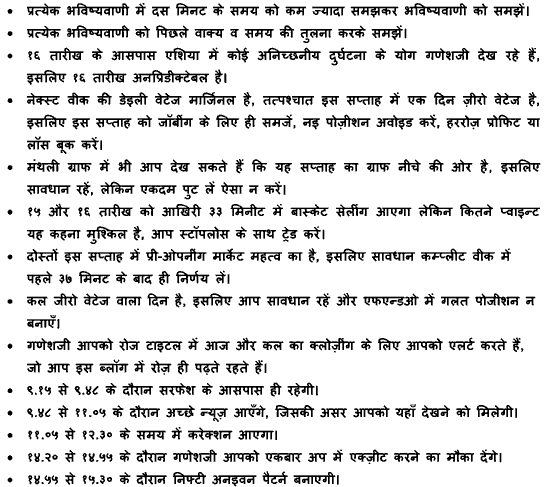 For further details, please contact customer care.
Telephone: 079 65221416
Mobile: +91 – 9909941816
Email: stockmarket@ganeshaspeaks.com