10th December 2013 – NIFTY and Silver, Gold and Crude Oil Market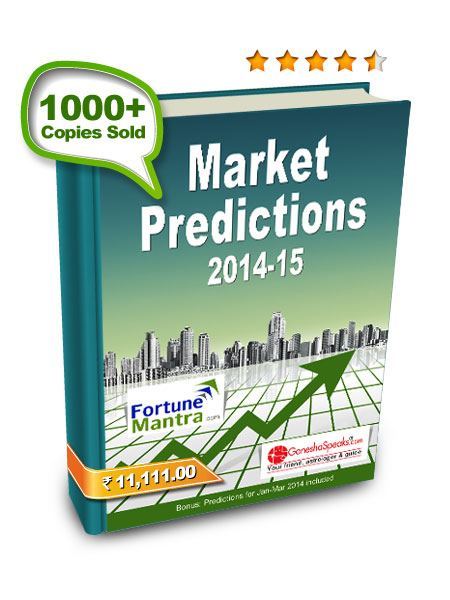 Consider 10 minutes plus and minus in each prediction, and act accordingly.
Ganesha advises you to compare every prediction with the prediction of the previous time slot.
Nifty
Nifty may remain around the Opening points and maintain the surface till 11:00.
According to Ganesha, the pattern at Nifty may be highly volatile and extremely uneven during the period between 11:00 to 14:00. It looks set to be a crucial time-slot. If you trade carefully, you may be able to earn good amount of profits on both sides.
From 14:00 to 14:30, Nifty may be down.
Nifty may overall be up during the period between 14:30 to 15:30.
Gold
The movements during the period between 10:00 to 12:00 may indicate an upward trend in the market.
From 12:00 to 14:00, there may be ups and downs in the gold market.
During 14:00 to 17:00, the gold prices may suddenly go down.
Ganesha predicts that the period between 17:00 to 21:00 is going to prove favourable for you. In all likelihood, you will come across many opportunities to earn profits.
During the period between 21:00 to the closing bell, the gold price may be just about average.
Silver
The time-slot between 10:00 to 15:30 can be further divided into three slots. There may be an up-down-up pattern in the silver prices during the aforementioned period.
The period between 15:30 to 17:00 looks set to be a very risky one. It is advisable that you buy and sell within very small margins.
From 17:00 to 18:00, the silver prices may be down.
From 18:00 to 22:00, a mixed pattern is foreseen.
From 22:00 to 22:50, the silver market may be up.
There may be a mixed pattern in the silver market during 22:50 to 23:30.
Crude Oil
From 10:00 to 12:45, the market activity may be less.
From 12:45 to 18:55, the crude oil prices may go up.
During 18:55 to 23:00, the crude oil prices may go down.
With Ganesha's Grace,
Dharmeshh Joshi,
09909941816
www.GaneshaSpeaks.com