29th April 2014 – Stockmarket and NIFTY Predictions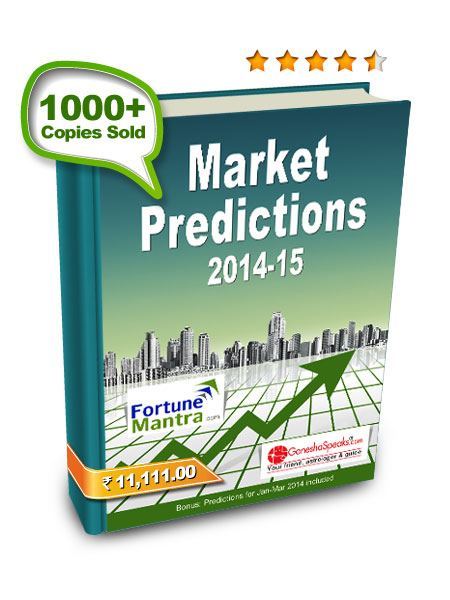 Consider 10 minutes plus and minus in each prediction, and act accordingly.
Ganesha advises you to compare every prediction with the prediction of the previous time slot.
The weightage for 29th and 30th April will be zero. (Refer to page no. 52-53 in the Market Predictions 2014-15 book for more information.)
The stock-market shall remain closed on 01/05/2014 on the occasion of May Day.
Friends, if you also consider technical and fundamental view/knowledge while following astrological predictions mentioned in the book, you may be able to reduce your loss.
Intraday day traders should only focus on predictions for intraday transactions. i.e., daily predictions. Those into F&O transactions should consider the Monthly PDF file sent to them earlier. And, those of you who are into delivery-bases trading should follow the astrological predictions and advice given in the book Market Predictions 2014-15.
Ganesha strongly advises you against trading without a stop-loss policy, especially during May and June 2014.
Kindly refer to the page no. 52-53 in the book Market Predictions 2014-15, and be cautions. You may be able to minimise your losses by doing so.
Nifty weightage for today as well tomorrow is zero, reminds Ganesha.
Today Mercury-Moon-Sun-Ketu are in conjunction, and according to Ganesha, this planetary combination may also affect your state of mind.
DO NOT TRADE, if you don't have the capacity to receive the actual delivery of the stocks, advises Ganesha, as it is going to be a highly unpredictable day at Nifty today.
Whether you are associated with the stock-market business or any other profession, Ganesha advises you to follow some remedial measures in order to find success, progress and mental peace. Follow Ganesha's advice to find advancement in life.
Offer Abhishek of Panchamrut (mixture of milk, curd, ghee, honey and sugar) to Lord Shiva. Jain friends should offer Pakshal to Lord Pashrwanath or Lord Aadinath. These remedial measures will help you sail smoothly during the times ahead.
Plan your investments wisely and earn maximum profits! Order your copy of Market Predictions 2014-15 NOW!
Do you want to know which companies' shares and stocks would be best for you to trade in? Avail Stock Special 1 Month and know 4 scrips that you may trade in to earn maximum rewards. We will also tell you the preferable price points at which you should transact for each company. You may also directly Talk to An Astrologer for reliable guidance on issues related to your personal life, business, career, relationships, education, property matters etc.
With Ganesha's Grace,
Dharmeshh Joshi,
09909941816
www.GaneshaSpeaks.com