28th October 2014 – Stockmarket and NIFTY Predictions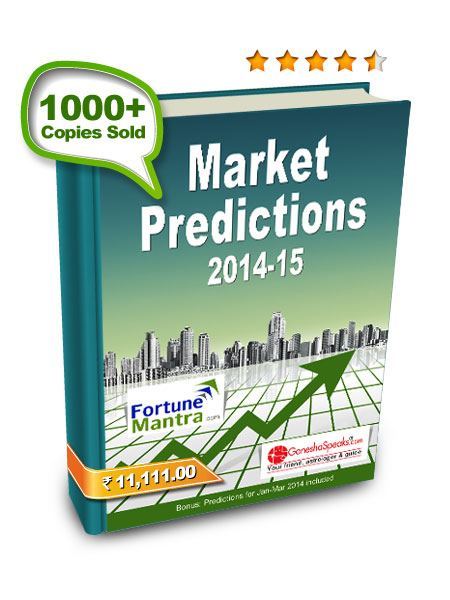 Scorpio
Mantra
शशधरे हि सरीसृपगे नरो नृपदुरोदरजातधनक्षयः ।
कलिरुचिर्विबलः खलमानसः कृशमनाः शमनापहतो भवेत् ।।
Implication – Those born under the Moon Sign Scorpio prefer to live their lives king-size. These people are very passionate, and this very streak makes them quick at picking fights with other people. Scorpio natives may also be restless, indecisive, unable to trust others and quite reactive. Since they also tend to be overconfident, they may make many mistakes along the path of their lives.
General –
Jupiter has been transiting through the House of Fortune, as per your Moon Sign. This is a good and supportive planetary transit. However, Saturn will start transiting through your Moon Sign from 2nd November 2014, initiating the second phase of your Shani Sade Sati (the seven and half years of Saturn), which may bring struggles and troubles for you. You may face health related issues, and may have to go through considerable mental stress. Nonetheless, Ganesha tells you that you have it in you to be strong and move ahead undeterred. Couples waiting to conceive may seek medical intervention and help, and proceed ahead. However, Ketu's transit through your 5th House (the House of child birth and creativity) may cause you problem, you can get over it by worshipping Lord Shiva regularly. For students and disciples of higher learning, the time may be difficult.
Finance and Profession
Heave a sigh of relief! The overall planetary positions indicate that the year ahead shall be quite decent for you on the financial, professional and business front. This will be a good year for business and professional expansion, when you may also plan to introduce new services or products. Many of you may move offices. However, as soon as you see that your efforts are catching speed, bringing you gains, do not go ahead and risk it all. That would be foolish, says Ganesha. If you have to take risks, do so after careful planning and considerable amount of calculations. Also, avoid taking loans in the year ahead, as far as possible.
Health
Since Saturn is going to start moving through your Moon Sign, you will need to be very careful in all matters related to your health and well-being. This trend may continue for next two and half years. You may suffer from problems related to bones, joint pains or rib-pains. Thus, be careful, so as to avoid accidents or bone displacement or fractures may assail you. People who are old may also suffer from arthritis and knee pains. You must worship Lord Hanuman and Lord Saturn to get rid of these challenges. If not entirely, regular worship shall at least decrease the intensity of many of your problems, says Ganesha.
Love and Married Relationship
There may be some troubles marring your realm of love and relationships in the year ahead. Ketu, transiting through your House of Love, may cause confusions, conflicts and hurdles. Also, Saturn, passing through your House of Marriage and Partnerships may create more troubles for you. Nonetheless, Ganesha asks you to not be scared, as these are only general predictions, and the actual results and their intensity vary and depend upon one's Personal Horoscope.
Education
With adverse planet Ketu's transit through your House of Studies, you may not expect great success in the matters related to education and career satisfaction. You may remain distracted, which may cause anxiety and restlessness. Naturally, these attributes cannot be good for studies and academic endeavours. This mindset may also affect your exam results, feels Ganesha. So, try to relax and meditate, in order to regain stability and balance. Also, Ganesha is not trying to scare you, but is making you aware of the upcoming challenges, so you remain prepared accordingly. If you do your best to remain disciplined at this time, the tide may even turn in your favour.
Remedies
Considering all the planetary positions, Ganesha suggests you to follow these remedial measures.
Worship Lord Shiva and recite Mahamrityunjay mantra regularly.
Consecrate an idol of Lord Shiva with pure water to get rid of illnesses and disorders. A dip in the holy waters of Ganga will bring you happiness.
Chant the following mantra to worship Navagraha.
II Brahmāmurāristripurāntakārī bhānu śaśiḥ bhūmi sūtō budhaśca |
gurūśca śukraḥ śani rāhu kētavaḥ sarvē grahā śāntikarā bhavantu||
II ब्रह्मामुरारिस्त्रिपुरांतकारी भानु शशिः भूमि सूतो बुधश्च
गुरूश्च शुक्रः शनि राहु केतवः सर्वे ग्रहा शांतिकरा भवन्तु II
For financial gains, use Quartz Crystal beaded (Sphatik) maalaa to chant Om Shreem Shreeye Namah (ॐ श्रीं श्रीये नम: ) 108 times.
Since the Lord of your Sign is Mars, you may receive great benefits by chanting the following mantra
II Dharaṇīgarbha sambhūtaṁ vidyutkānti samaprabha
Kumāraṁ śakti hastaṁ taṁ maṅgalam praṇamyāmaham II
II धरणीगर्भ संभूतं विद्युत्कांति समप्रभ
कुमारं शक्ति हस्तं तं मंगलम् प्रणम्यामहम् II
Plan your investments wisely and earn maximum profits! Order your copy of Market Predictions 2014-15 NOW!
Do you want to know which companies' shares and stocks would be best for you to trade in? Avail Stock Special 1 Month and know 4 scrips that you may trade in to earn maximum rewards. We will also tell you the preferable price points at which you should transact for each company. You may also directly Talk to An Astrologer for reliable guidance on issues related to your personal life, business, career, relationships, education, property matters etc.
With Ganesha's Grace,
Dharmeshh Joshi,
09909941816
www.GaneshaSpeaks.com