17th April 2015 – Stockmarket and NIFTY Predictions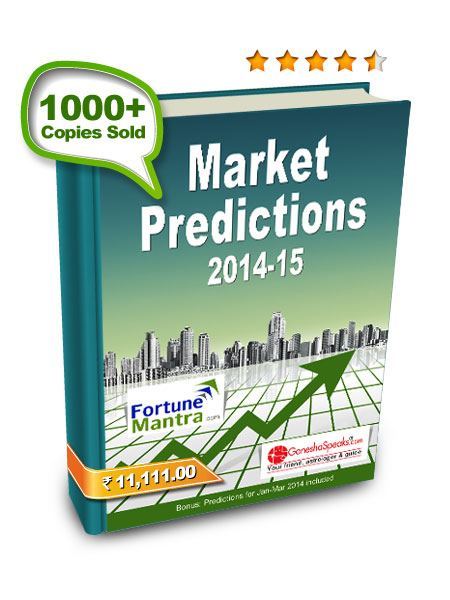 Please consider 10 minutes plus and minus in each prediction, and act accordingly.
Ganesha advises you to compare every prediction with the prediction of the previous time slot.
If you can proceed ahead with good delivery capacity or are ready to gamble, this is a good day, says Ganesha.
However, do proceed ahead today, after referring to the prediction for the opening period for the date of 13.04.2015, in the Market Predictions 2015-16 book.
The Stock Market Prediction Book by GaneshaSpeaks for the financial year 2015-2016 has been released.
Friends once again you have witnessed Ganesha's accurate prediction, and the amazing effect of zero weightage day on 9th and 26th March 2015.
Friends, zero weightage may occur 14 times in the forthcoming financial year, which is already mentioned in advance in our Stock Market Prediction Book for 2015-2016.
The combination of Moon-Ketu that gets created today may keep the market sentiment pretty confusing. The time may be vision-less and direction-less, feels Ganesha. This trend may continue till 12:35 today.
How Moon Signs Invite Wealth and Manage Financial Matters
Capricorn: You aim to acquire wealth, but only through conventional sources and tried and tested formulae. If you come across a great opportunity or a lucrative offer, which has never been tried before, you would happily turn down the offer. At least you will not take it upfront, not without proper and detailed research. In other words, you are not a risk-taker, and would pass up the small gains for long-term happiness and bigger benefits. Although you are ready to take up challenges, you hesitate to adapt unconventional or innovative methods to deal with them. And, this tendency of yours, at times, may go too far, and you may lose on excellent opportunities in life. A little alteration in your style of working can take you much higher on the success ladder, says Ganesha. Work in tune with times and get rid of rigid and orthodox ways of workings in order to explore your true potential and earn the financial status you deserve.
Aquarius: Calm, sorted and rational, you are quite clear, when it comes to monetary matters and future security. You are neither extravagant not stingy. For you, money is just a medium, which takes care of the basic necessities of life. You would like to spend money on the needs and development of the people you love and care about rather than splurge it on to fulfill your own desires. However. you will also spend some amount of money on your lifestyle needs, as appearances do matter a lot to you. Yet, at the end of the day, you will have saved, and invested for future use, a decent amount of money. Ganesha feels that you need to be more experimental in order to explore your potential to the fullest. Your rigid ways of earning money, and not listening to/ ignoring your inner voice can land you in trouble. If you manage to be more flexible, your intelligence and intuitiveness may bring you excellent monetary gains.
Pisces: You are calm and easy-going as far as the monetary matters and financial security are concerned. Making money and acquiring wealth is often a secondary aim. You tend to rely on your intuition and instincts, even when it comes to earning money. Often, you lack aggression and passion to pursue financial goals. In fact, you can be quite passive when it comes to the financial matters. Service to humanity gives you ultimate peace of mind, happiness and contentment, and you may lose out on lucrative opportunities in your bid to lend a helping hand. There is not anything wrong in their stance, but then, excess of anything is bad! Truth is that you may continuously deal with a lack of funds or security, and that may make you rather difficult with money matters. However, according to Ganesha, with some balance and a definitive tug at laziness and submissiveness, you can pull yourself out of these recurring financial crunches.
Plan your investments wisely and earn maximum profits! Order your copy of Market Predictions 2014-15 NOW!
Do you want to know which companies' shares and stocks would be best for you to trade in? Avail Stock Special 1 Month and know 4 scrips that you may trade in to earn maximum rewards. We will also tell you the preferable price points at which you should transact for each company. You may also directly Talk to An Astrologer for reliable guidance on issues related to your personal life, business, career, relationships, education, property matters etc.
With Ganesha's Grace,
Dharmeshh Joshi,
09909941816
www.GaneshaSpeaks.com