14th January 2015 – Stockmarket and NIFTY Predictions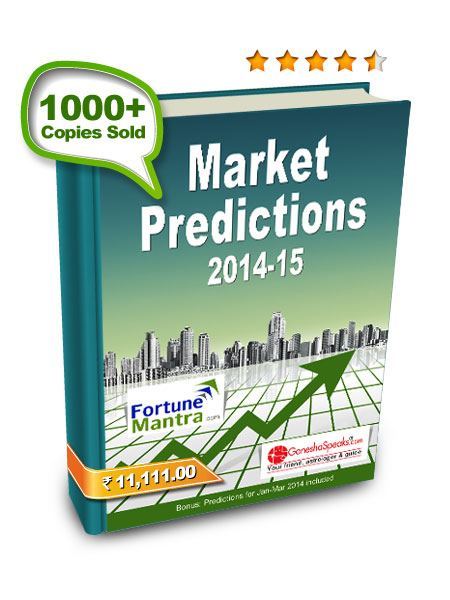 We have started creating the Market Predictions book for the coming financial year.
The Sun is now leaving its own Sign and moving to another Sign. Thus, any government related decisions shall be postponed for now.
You must focus on worshipping the Lord Sun, and also giving charity and getting involved in social causes.
Today, both the luminaries, the Sun and the Moon may be weakened. This may result in lower volume in the market. Thus, Ganesha advises you to take a break, and stay away from trading largely.
Gold and Silver Markets – 2015 Astrological Trends
Gold and silver have always been considered important and sacred in India, ever since the ancient times. Both the precious metals have been associated with auspicious occasions like marriages, child birth etc. and are also held as vital ways of secure investments.
We can easily say that, across the world, the gold has never lost its lustre, since it is vastly used as a security in banks, as investments for a secure financial future and also for making ornaments to adorn women. The market trends have proved, time and again, that gold's value keeps appreciating at a decent rate, meeting depreciation only for small time frames.
Similarly, silver has also been regarded as an important metal and has always been in demand, since it is widely used for making articles and medicines, as well as for research and industrial purposes. It is also seen as a relatively secure form of investment.
The demand for both these metals definitely fluctuates periodically, yet since the olden days, gold and silver have been considered as the best form of long term investment and for securing one's financial future. Apart from long term relative stability, in the prices of gold and silver, both these metals are regarded as a vital asset for a nation – in the event of financial crises, political instability, and during any adverse condition. Hence, the gold and silver markets have now spread far and wide. Moreover, several people prefer to invest in gold and silver, due to the high fluctuations in currency prices across the globe, in the past few years.
In last one year, the gold and silver prices have fluctuated, and have even hit their respective lows. What will be the status of these two precious metals' market in the year 2015? Ganesha reads into the Astrological indications affecting the commodity (to be precise, gold and silver) markets to predict the way ahead.
As per the Horoscope created for the beginning of the new year 2015, Jupiter shall be transiting through Cancer, which is its Sign of exaltation – in a retrograde mode. Whereas, the shadow planets Rahu and Ketu have been in the Zodiac Signs Virgo and Pisces respectively. Moreover, Saturn has been passing through Scorpio, while the Sun shall be in Sagittarius Sign.
As per the aforementioned planetary position, Ganesha feels that the gold market may remain in a moderate mode, during the initial period of 2015. There shall, thus, be not much strength in the gold market at this time.
However, it is likely that apart from some fluctuations, overall, the gold prices may rise till 17-01-2015. Later, from the end of January 2015 to February 2015 end, the slightly downward trend in the gold market shall give you a fresh opportunity to buy gold. Hence, you shall earn a good profit, if you buy whenever the gold prices decline and sell whenever the gold prices rise.
However, Ganesha cautions you that the gold market may fluctuate frequently in the year ahead. You should avoid taking new risks, if you cannot understand the market trends, thus.
As for the silver market, nothing special is foreseen, during the first trimester of 2015 – i.e. from January to March 2015. However, the market may witness more pressure on the Makar Sakranti day and also during the succeeding fortnight.
Please note that Ganesha tells you to avoid making hasty decisions regarding buying silver, around March end, since the gold and silver prices may fluctuate a lot, till the end of March 2015. In fact, the gold and silver prices shall especially remain highly unstable, during the month of March. This may be due to political instability at a global level or bullish trends in other markets, eventually resulting in decrease in demand for both these metals.
Also note that the retrograde Jupiter shall become direct in the second quarter of 2015. Hence, April and the period thereafter is likely to be slightly positive for the markets. Apart from some minor fluctuations, you may now witness some stability in the prices of gold and silver. Long term investors shall get a buying opportunity at every decline in the prices.
The Sun and Mars will be in conjunction in Aries, along with Mercury – the planet related to trading, during April and May 2015. Friends, this is a union of two planets with fiery elements, along with the conjunction of the Swagruhi Mars and Mercury. Moreover, Mercury shall turn retrograde in the future. Hence, you may get attracted by the fluctuating prices of gold and silver, during this quarterly period, and may end up making a hasty investment decision. Hence, as far as possible, you should analyse the prevailing situation as well as the market trends, and proceed accordingly at this time.
In the month of June, you met get to see some stability in the markets, feels Ganesha. Further in the month of July, Jupiter will leave its Sign of Exaltation, and shall move to the Zodiac Sign Leo, which will be a significant event, astrologically. However, the influence of other planets may initially lead to a slightly bearish trend in the bullion market. Anyway, the market shall slowly get bullish, as we move towards the year end. Actually Ganesha feels that the gold and silver prices, shall especially increase in September and October as compared to the previous months. This shall give an opportunity to earn profits for those investors who had earlier bought at lower rates. Hence, considering the whole year as compared to the last year, the gold and silver market shall witness an upward trend and continue to move ahead. Hence, people trading in gold and silver shall get several opportunities to frequently enter and exit the market, during this year.
Plan your investments wisely and earn maximum profits! Order your copy of Market Predictions 2014-15 NOW!
Do you want to know which companies' shares and stocks would be best for you to trade in? Avail Stock Special 1 Month and know 4 scrips that you may trade in to earn maximum rewards. We will also tell you the preferable price points at which you should transact for each company. You may also directly Talk to An Astrologer for reliable guidance on issues related to your personal life, business, career, relationships, education, property matters etc.
With Ganesha's Grace,
Dharmeshh Joshi,
09909941816
www.GaneshaSpeaks.com