09th April 2015 – Stockmarket and NIFTY Predictions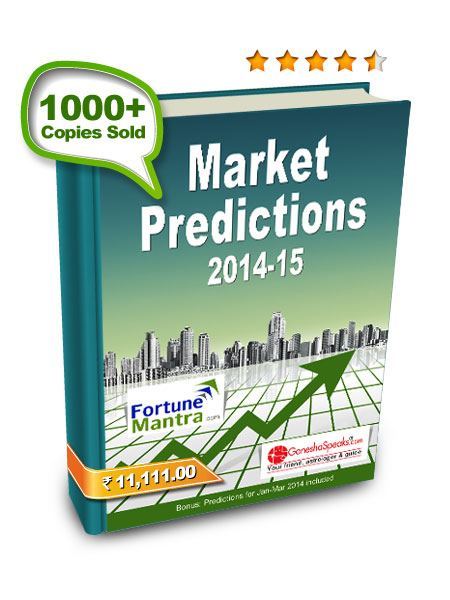 Please consider 10 minutes plus and minus in each prediction, and act accordingly.
Ganesha advises you to compare every prediction with the prediction of the previous time slot.
The Stock Market Prediction Book by GaneshaSpeaks for the financial year 2015-2016 has been released.
Friends once again you have witnessed Ganesha's accurate prediction, and the amazing effect of zero weightage day on 9th and 26th March 2015.
Friends, zero weightage may occur 14 times in the forthcoming financial year, which is already mentioned in advance in our Stock Market Prediction Book for 2015-2016.
Stock Market Tendencies of Libra
Balance is your second name. Cautious, measured and poised as you are, you have the capability to go a long way in anything you attempt. However, your personality doesn't allow you to take a lot of risks; this may be a deterrent if you are into any speculative deals or stock trading. You tend to be overly cautions, which unduly stresses you out. You may also attempt some silly and risky moves, only to impress others, which may backfire. Going overboard is never an option for Libra natives; they don't prefer doing that, and if they do, it doesn't bring them satisfaction. Thus, if you like to invest in stock markets, Ganesha advises you to be very careful. Any changes in you job, house and vehicle may add to mental chaos and anxiety. So, avoid unnecessary moves.
Stock Market Tendencies of Scorpio
Scorpios are known for their volatile reactions. They are loyal, but are given to extreme feelings of revenge and passion. To do well in any speculative trade, you should try to be more balanced and calmer. Your risk taking ability and penchant for keeping secrets makes you a suitable player for this market, but you stand a chance of getting betrayed or duped, as you are kind-hearted. You should be on guard always. If you do that, there won't be any problems for you in speculative deals. Don't over-commit or take unnecessary risks in a fit of passion or rage, though. If you have been facing any problems due to your children, too many expenses or some financial issues, you can get drawn into illusions. Be wary of any get-rich-quick scheme. A careless or over zealous approach might lead you to face losses in share market, so look before you leap, in trading.
Stock Market Tendencies of Sagittarius
Sagittarius is an intellectual sign. Thus, you seem to have a good technical, fundamental and commercial know how of every scrip or the market itself, which helps you make more profit that others. After all, you are the knowledge collectors of the zodiac. However, too much of anything can be bad. You may get distracted, and end up taking wrong decisions. So, be careful, especially during intra day in stock market. Ensure that your money is not stuck in the wrong scrips. If your profits seem to be reducing, you would do well be seeking genuine, objective advice from an expert, advises Lord Ganesha. You might change your job, profession or house this year. Change won't be very difficult for you, assures Ganesha.
Plan your investments wisely and earn maximum profits! Order your copy of Market Predictions 2014-15 NOW!
Do you want to know which companies' shares and stocks would be best for you to trade in? Avail Stock Special 1 Month and know 4 scrips that you may trade in to earn maximum rewards. We will also tell you the preferable price points at which you should transact for each company. You may also directly Talk to An Astrologer for reliable guidance on issues related to your personal life, business, career, relationships, education, property matters etc.
With Ganesha's Grace,
Dharmeshh Joshi,
09909941816
www.GaneshaSpeaks.com