08th April 2015 – Stockmarket and NIFTY Predictions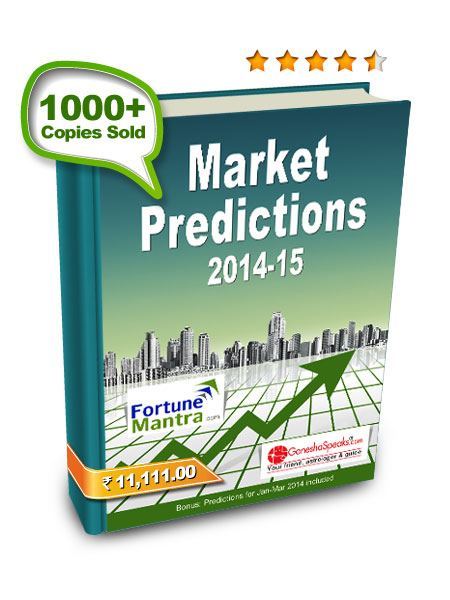 Please consider 10 minutes plus and minus in each prediction, and act accordingly.
Ganesha advises you to compare every prediction with the prediction of the previous time slot.
Friends, the opening trend may be very confusing in the next 3 days. Ganesha foresees it to be misleading because there may either be big jump/s or boring surface trends, which may not let you take a proper decision.
The Stock Market Prediction Book by GaneshaSpeaks for the financial year 2015-2016 has been released.
Friends once again you have witnessed Ganesha's accurate prediction, and the amazing effect of zero weightage day on 9th and 26th March 2015.
Friends, zero weightage may occur 14 times in the forthcoming financial year, which is already mentioned in advance in our Stock Market Prediction Book for 2015-2016.
Stock Market Tendencies of Cancer
The emotional and sensitive Cancer tends to cling on to everything. Although, you are wise and sorted by nature, your sensitivity and inability to let go becomes a deterrent in your progress. This trait of yours makes you attached even to the scrips in your portfolio. Therefore, you may find it really hard to sell them out at the right time, and may lose money in markets. You need to be careful, while making friends and sharing your secrets with others. People may betray you, especially if you have shared with them your agonies. They will be able to guess your shortcomings, and this can give them a chance to dupe you. Beware, cautions Ganesha!
Stock Market Tendencies of Leo
Ganesha appreciates your grip on the stock market. Your zodiac sign seems to have a very strong foothold on the market, because you are a good leader and are often a trend-setter. With your astute trading pattern that is backed by serious thinking, you seem to be the one who sets trends in the market. However, by nature you are supremely confident, and this may sometimes border onto arrogance. Your inability to accept defeat or your mistake may make matters worse. Hence, Ganesha advises you to tone down your approach, and aim for more balance in life.
Stock Market Tendencies of Virgo
Practical, meticulous and sorted, Virgo, theoretically speaking, is the sign that should be credited with taking most well-planned and well-thought of decisions and actions. However, like excess of everything is bad, the excess of caution and planning too can become a hurdle in your progress and success. You are very prudent and thoughtful, but sometimes, you may take too much time in taking decisions. You also exhibit a duality of mind. This may cause you to miss the bus. While pondering over which scrip to trade in, and whether to buy first or sell, you may end up spending too much of precious time. But Ganesha wants you to tide over your shortcomings, and make plenty of profit. Follow the given remedies to achieve better financial results.
Plan your investments wisely and earn maximum profits! Order your copy of Market Predictions 2014-15 NOW!
Do you want to know which companies' shares and stocks would be best for you to trade in? Avail Stock Special 1 Month and know 4 scrips that you may trade in to earn maximum rewards. We will also tell you the preferable price points at which you should transact for each company. You may also directly Talk to An Astrologer for reliable guidance on issues related to your personal life, business, career, relationships, education, property matters etc.
With Ganesha's Grace,
Dharmeshh Joshi,
09909941816
www.GaneshaSpeaks.com