Market (Sensex, Nifty) predictions for 6th November, 2009
For better understanding of our Nifty predictions for a given period, it is essential that you keep in mind the predictions given in the previous period, says Ganesha.
Read the entire day's prediction before making up your mind; this will help you maximise gains and minimise losses.
Our customers can now order yearly, monthly and daily Nifty predictions, and personalised Fortune Mantra.
During October 2009, Nifty went through a negative phase after October 16, 2009. Thus, even when there was a positive trend, the market wasn't too positive, and when there was a negative trend, it crashed. Keep this in mind!
Note: For every prediction, expect a variation of 10 minutes.
Important pointers for the week: This week, the intra-day traders, who know how to play the market, will have a great time at Nifty, provided they play on both sides. Don't base your trading strategy on a single trend, says Ganesha. You are likely to fetch a lot of money if you keep on cutting the deals frequently. However, Ganesha is not too upbeat about the market trend himself.
The month of November is a positive phase for the market. This means that a positive trend would mean a sharp surge in the market and a negative trend would mean a minor drop. So, plan your business accordingly.
From 9:55 to 10:30, Nifty is likely to stay positive, despite a volatile trend.
From 10:30 to 12:05, though Nifty may soften a little, it will continue to stay positive.
From 12:05 to 13:30, the effects of buying in heavyweight scrips will show on Nifty.
From 13:30 to 15:00, Nifty is likely to fall, believes Ganesha.
From 15:00 to 15:30, Nifty will end the week on a positive note.
Important: Throughout next week, you are likely to notice buying during the end of each day. It is likely that its effect may have begun today. So, don't do anything foolish.
Gujarati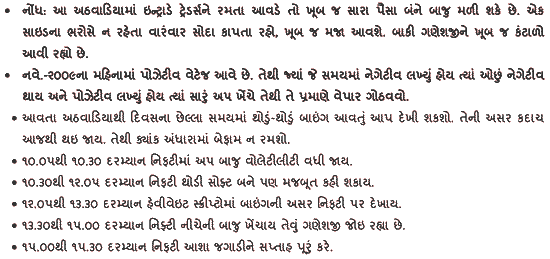 Hindi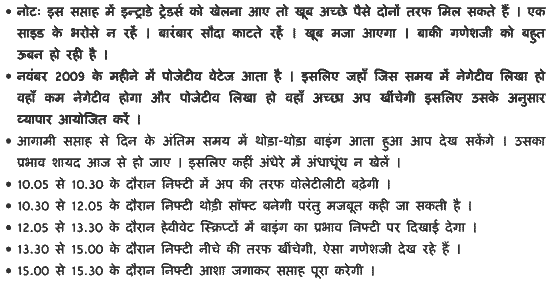 With Ganesha's Grace,
Dharmeshh Joshi,
09909941816
www.GaneshaSpeaks.com