Market (Sensex, Nifty) predictions for 5th November, 2009
For better understanding of our Nifty predictions for a given period, it is essential that you keep in mind the predictions given in the previous period, says Ganesha.
Read the entire day's prediction before making up your mind; this will help you maximise gains and minimise losses.
Our customers can now order yearly, monthly and daily Nifty predictions, and personalised Fortune Mantra.
During October 2009, Nifty went through a negative phase after October 16, 2009. Thus, even when there was a positive trend, the market wasn't too positive, and when there was a negative trend, it crashed. Keep this in mind!
Note: For every prediction, expect a variation of 10 minutes.
Important pointers for the week: This week, the intra-day traders, who know how to play the market, will have a great time at Nifty, provided they play on both sides. Don't base your trading strategy on a single trend, says Ganesha. You are likely to fetch a lot of money if you keep on cutting the deals frequently. However, Ganesha is not too upbeat about the market trend himself.
The month of November is a positive phase for the market. This means that a positive trend would mean a sharp surge in the market and a negative trend would mean a minor drop. So, plan your business accordingly.
As we have already told you, this is the week of intra-day traders. That's why instead of giving predictions for short period of times, we have focused on longer periods for our predictions.
The time duration between 9:55 and 12:10 is fantastic for Jobbing with the stop-loss method. You will earn a lot through buying and selling, but only if you keep on cutting the deals. If you get greedy and wait for a better deal, do it at your own risk. Don't blame Ganesha for your greediness.
From 12:10 to 13:30, Ganesha foresees a strong buying trend in Nifty. You can play your game fearlessly, like Dhoni.
From 13:30 to 15:30, Nifty trend is yawn-inducing for Ganesha. Since yawning is contagious, you may find yourself feeling sleepy to. But it has little to do with Ganesha's yawn and more to do with the lack of activity at Nifty. Nifty is likely to keep you trading around the negative side. If you play smart and with patience, you may find a lot of money added to the contract note.
Gujarati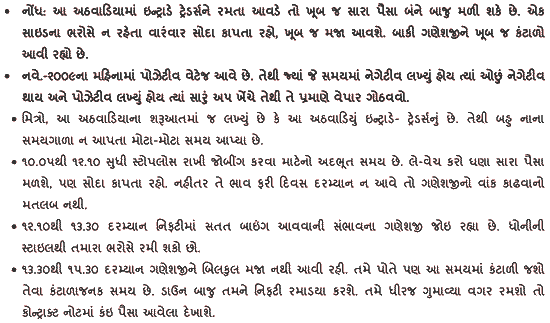 Hindi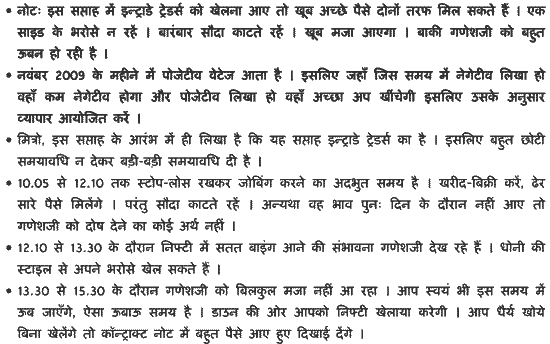 With Ganesha's Grace,
Dharmeshh Joshi,
09909941816
www.GaneshaSpeaks.com