Market (Sensex, Nifty) predictions for 3rd September, 2009
Predictions for every phase should be considered only after comparing them to the predictions of the previous phase.
Take decisions only after going through the current and penultimate predictions thoroughly. This will help you maximise gains and minimise losses.
In this week, the time from 10:00 to 10:30, and 11:00 to 11:25 is likely to be confusing. You will not know what to do during this period, as the market will be very volatile. Sit back and just see how the market plays.
The weightage of the day is good as compared to the previous day. Trade only on Nifty based scrips as trading on other scrips may mislead you. For the entire day, bank on the opening trend.
From 9:55 to 13:25, after making you trade upside, Nifty will bring you back down. Watch the screen, or stoploss may give you a miss.
Big bull, mutual funds and FIIs will help Nifty march upwards between 13:25 and 14:50.
From 14:50 to 15:05, Nifty may slide down for only 15 minutes.
From 15:05 to 15:30, Nifty may move towards the top.
Gujarati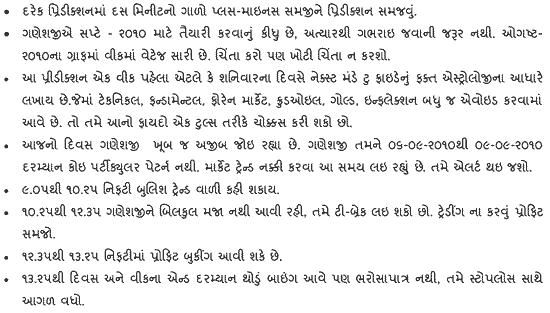 Hindi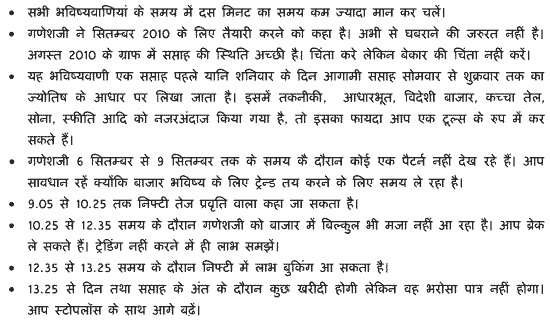 With Ganesha's Grace,
Dharmeshh Joshi,
09909941816
www.GaneshaSpeaks.com