Market (Sensex, Nifty) predictions for 28th January, 2010
For better understanding of our Nifty predictions for a given period, it is essential that you keep in mind the predictions given in the previous period, says Ganesha.
For every prediction, expect a variation of 10 minutes.
Last week, we warned you: Don't trust the opening. And as you would have seen throughout the week, we were right.
On January 21, 2008, Nifty shed 496 points; on January 22, 2008, Nifty dropped 309 points; on January 21, 2008, Nifty was down by 90 points; on January 22, 2009, Nifty gained 7 points; on January 21, 2010, Nifty lost 127 points; on January 22, 2010, the market shaved 58 points. So around this time every year, the market experiences high volatility and a bit of a negative trend, which is what we forewarned you about in our prediction on January 2, 2010. During January 2010, Ganesha advises you to call-put on a daily basis instead of taking a long position.
This prediction is written a week in advance based on astrological inferences. Although these predictions are independent of foreign market trends, Gold and crude oil prices, inflation, News and rumors, we are able to provide fairly accurate predictions. So friends, this is a sure-shot tool for reducing your losses and increasing your profits.
Today, moon is in Ardra nakshatra that is in the Rahu Nakshatra. Thus, Nifty will be extremely rangebound.
Also, moon will be conjunct with Ketu. Thus, market will be extremely volatile. You can see that in the monthly graph.
9:10 to 9:35- Nifty will show a negative trend. Enter market at your own risk.
take a note of the market position at 9:35 and book regular profits till 11:25.
11:25 to 12:40- This period completely depends on your luck as it is the most volatile period of the day.
12:40 to 14:00- Nifty will move downwards, step-by-step.
14:00 to 15:30- This period will stupefy you. You may not know which way to go. Either opt out, or play fearlessly like Dhoni.
Gujarati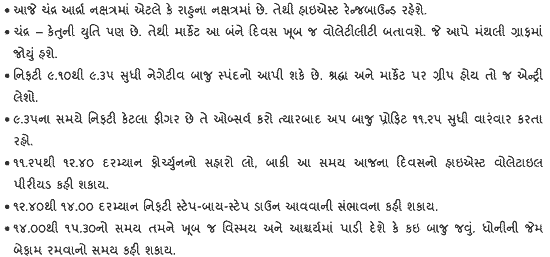 Hindi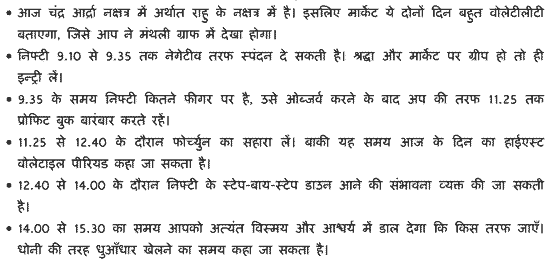 With Ganesha's Grace,
Dharmeshh Joshi,
09909941816
www.GaneshaSpeaks.com