Market (Sensex, Nifty) predictions for 27th August, 2009
Predictions for every phase should be considered only after comparing them to the predictions of the previous phase.
Take decisions only after going through the current and penultimate predictions thoroughly. This will help you maximise gains and minimise losses.
These predictions (for Monday to Friday), which are crafted purely on astrological basis, are written and made ready on the Saturday prior to a week. While writing these predictions, Ganesha doesn't consider factors like foreign market, technical, fundamental, prices of crude oil and gold, and other rumours.
The forthcoming September dates  10th, 11th, 14th, 15th, 24th and 29th  are very important
If you have August 2009s graph in advance, you must have noticed that on many days, the weightage is good. This is the reason why, even though the Nifty movements have been negative, the market has maintained its strength. You can avail your monthly graph for reference well in advance and safeguard your position.
You will be able to stay in the market only if you apply technical, astrological and fundamental yardsticks otherwise you will be at a complete loss as to the movements in Nifty. Nifty will remain upwards till 11:00
From 11:00 to 13:00, Ganesha envisages an amazing phase. If you trade wisely, you may make profits, otherwise you will stay wary of the stock market forever. Follow the market's direction and invest accordingly and exit once you have made a satisfactory deal. Then, wait for five more minutes, ink a new deal, put money into it and exit.
From 13:00 to 14:10, Nifty will form a V shaped graph. Ganesha advises you to take decisions only after studying at what point Nifty is at 13:00.
Compared to the previous time slot, between 14.10 to 15.30, Nifty will give positive results in small deals. Pay more attention to volume, not value. The more your trade the better you shall earn. Stay away from long position.
Gujarati


Hindi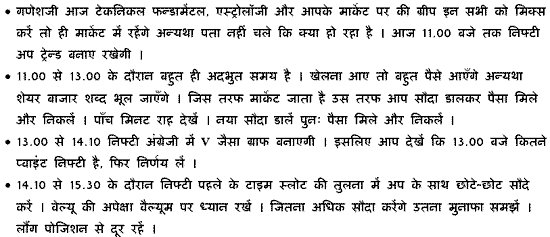 With Ganesha's Grace,
Dharmeshh Joshi,
09909941816
www.GaneshaSpeaks.com