Market (Sensex, Nifty) predictions for 27th August, 2008
Nifty may give you some relief in spite of fluctuations during the last two days. The time during this week is lousy. Nifty may remain so-so till 10:25.
From 10:25 to 10:51, rise in buying of heavy weight scrips may bring a rise in Nifty. This phase has a lot of strength.
From 10:51 to 12:43, Nifty may make a graph in the form of the alphabet 'W' . This shows the degree of volatility of the market.
From 12:43 to 14:07, it may make a graph which resembles the graph formed in the previous phase. But, dear friends, the slope of the graph may be downwards.
From 14:07 to 15:03, there may be chaos. You may get confused about the time to take entry in the market. Nifty may remain little high but it is an uninteresting phase.
From 15:03 to 15:30, amidst the chaos Nifty may try to pull itself upwards.
Gujarati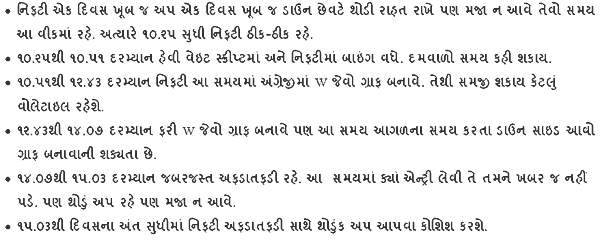 Hindi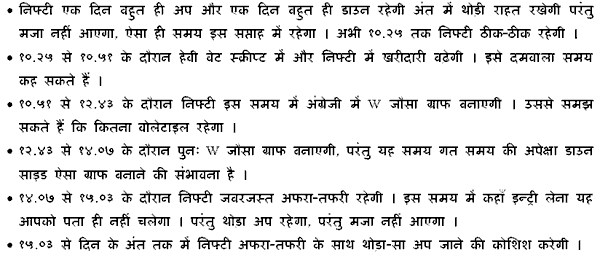 With Ganesha's Grace,
Dharmeshh Joshi,
09909941816
www.GaneshaSpeaks.com