Market (Sensex, Nifty) predictions for 26th November, 2009
Points to remember: For better understanding of our Nifty predictions for a given period, it is essential that you keep in mind the predictions given in the previous period, says Ganesha.
Read the entire day's prediction before making up your mind; this will help you maximise gains and minimise losses.
For every prediction, expect a variation of 10 minutes.
On December 20, 2009, Jupiter is changing its sun sign. And its effects will start showing from December 18, 2009 onwards. The market will go haywire. You will not know what to do. Ganesha advises you to avoid taking a long-term stand on anything. Square your positions daily.
If you don't pay heed to this prediction for December, you may end the year in regret.
Nifty will be particularly unpredictable on December 18, 21, 22, 23 and 30.
Don't take a position on Nifty on 23, 24, and 29 December, 2009.
Today is the last Thursday of November 2009 and weightage for the day and the opening period is not too good. So till 10:50, you can recover your investment only if you practice extreme caution.
From 10:50 to 12:05, Ganesha foresees a positive trend at Nifty. But you will be able to make money only if you trade after properly understanding every prediction.
From 12:05 .to 12:30, don't look for any targets or stop-loss situations. Cut short anything that is long-term. The weightage for this period is zero.
From 12:30 to 13:45, Ganesha foresees the market-breadth as getting negative. But this may not happen in every scrip. So stick to the scrip on which you have complete knowledge.
From 13:45 to the end of the trading day, Nifty is likely to slowly move up followed by a sudden steep plunge. Thus the last 30 minutes of the day are very crucial.
Gujarati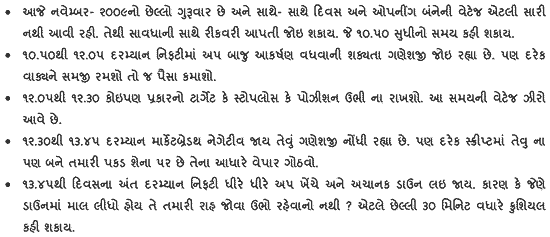 Hindi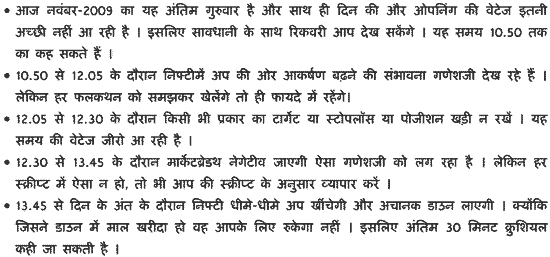 With Ganesha's Grace,
Dharmeshh Joshi,
09909941816
www.GaneshaSpeaks.com