Market (Sensex, Nifty) predictions for 26th August, 2008
Dear Friends, the market will gain strength between October 09, 2008 to November 03, 2008. Nifty may hover around the surface till 10:15.
From 10:15 to 11:10, Nifty may drift upwards, in comparison to the previous time period.
From 11:10 to 11:45, Nifty may catch a downward trend. So, do not let your nerves heat up. Just keep your cool.
From 11:45 to 12:50, Nifty may endeavour to reach the peak. But, do not be a copy cat. Trade relies on your understanding of the scrips.
From 12:50 to 13:40, Nifty may again nosedive. It will be useful if you grab each and every opportunity.
From 13:40 to 13:50, if you do not be cautious then Nifty may roll down like a ball rolling down from a ladder.
From 13:50 to 15:30, Nifty may try to gain stability and may be inclined upwards when compared to the previous phase.
Gujarati


Hindi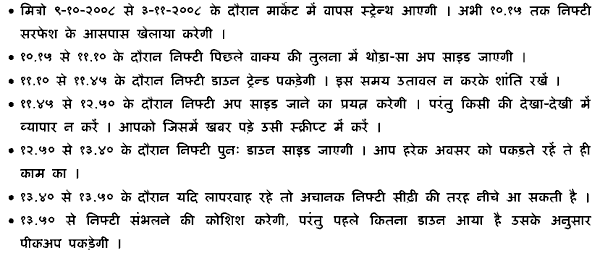 With Ganesha's Grace,
Dharmeshh Joshi,
09909941816
www.GaneshaSpeaks.com