Market (Sensex, Nifty) predictions for 24th November, 2009
Points to remember: For better understanding of our Nifty predictions for a given period, it is essential that you keep in mind the predictions given in the previous period, says Ganesha.
Read the entire day's prediction before making up your mind; this will help you maximise gains and minimise losses.
For every prediction, expect a variation of 10 minutes.
On December 20, 2009, Jupiter is changing its sun sign. And its effects will start showing from December 18, 2009 onwards. The market will go haywire. You will not know what to do. Ganesha advises you to avoid taking a long-term stand on anything. Square your positions daily.
If you don't pay heed to this prediction for December, you may end the year in regret.
Nifty will be particularly unpredictable on December 18, 21, 22, 23 and 30.
Don't take a position on Nifty on 23, 24, and 29 December, 2009.
From 10:05 to 10:30, expect heavy buying in Index-based scrips. The buying will be for a very brief period, so you need to be very quick to react.
From 10:30 to 11:20, Nifty is likely to be extremely range-bound. You will not know which way to go. You will have to rely on your own ability to understand the market and handle losses. Otherwise, it doesn't take much time to lose money at the bourses.
From 11:20 to 11:45, you may keep on seeing the buying signal on the Nifty screen. So make good use of this time and keep on booking your profits. (The above three stages are of very brief periods .Only Ganesha can predict for such short durations.)
The weightage for the time between 11:45 and 12:45 is same as above. This this period will make you play for profits only to change the trend at the very last moment. So fix your focus on your deals and exit at the first sign of something going wrong.
12:45 to 15:30: Nifty is likely to begin this period with a downward movement. It will later start moving upwards; after a considerable rise, it will again drop. The entire duration can be termed as pass time.
Gujarati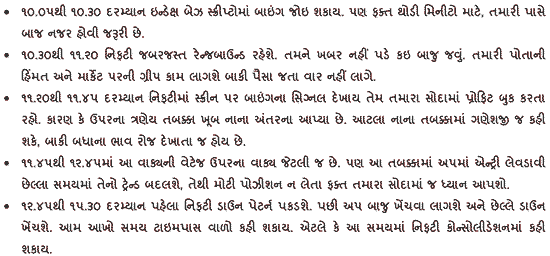 Hindi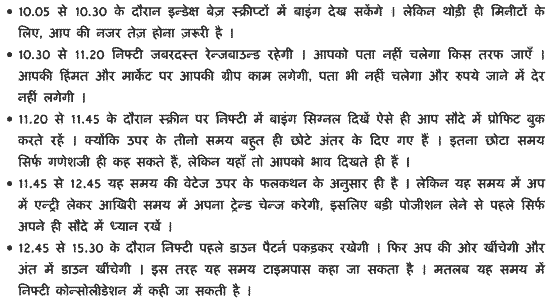 With Ganesha's Grace,
Dharmeshh Joshi,
09909941816
www.GaneshaSpeaks.com