Market (Sensex, Nifty) predictions for 23rd December, 2009
For better understanding of our Nifty predictions for a given period, it is essential that you keep in mind the predictions given in the previous period, says Ganesha.
For every prediction, expect a variation of 10 minutes.
On December 20, 2009, Jupiter is changing its sun sign. And its effects will start showing from December 18, 2009 onwards. The market will go haywire. You will not know what to do. Ganesha advises you to avoid taking a long-term stand on anything. Square your positions daily.
Last week, Nifty average was 26 points and Nifty total will 130 points. So over all, it was mostly a waste of time. Now you know why Ganesha was saying what it said in the last week's prediction.
Nifty will be particularly unpredictable on December 21, 22, 23 and 30. Don't take a position on bank Nifty on December 23, 24, and 29.
Stick to delivery-based intraday during the next week.
A forgettable day. Your best option is intra-day, but provided you have the strength to take the delivery. Don't hold a position in bank Nifty.
10:05 to 11:25- Ignore all recommendations. Wait for the market to open, says Ganesha. The market will drop from the point it opens, thus it will follow an up-down pattern.
11:25 to 13:25- The market trend is likely to move step-by-step in the upward direction, except when there is a Nifty breakout. But the weightage is less, so don't get your hopes high and keep on exiting.
13:25 to 14:45- The graph of trends at Nifty will form a W. So close watch Nifty's behaviour before making a decision.
14:45 to 15:30- The weightage for this line is around -0.01, which is close to zero. So, don't expect earth shattering profits at Nifty. Keep on jobbing if you still want to trade at Nifty.
Gujarati


Hindi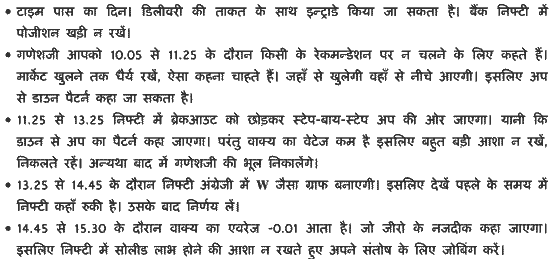 With Ganesha's Grace,
Dharmeshh Joshi,
09909941816
www.GaneshaSpeaks.com