Market (Sensex, Nifty) predictions for 19th December, 2008
From 9.55 to 10.30, Nifty will be somewhere stick around the surface points. So pull up your socks and trade without any tensions. This week, Sagittarius sign signals the conjunction of the moon and sun, leaving you aggressive in the process.
From 10.30 to 11.30, Nifty displays a downside spiral, and overall the same signal is been directed. But, you study the graph and you will know, things are not the way it appears.
From 11.30 to 12.50, you will be in a deep confusion and you don't know what do next. The day may appear boring and pretty fearful as the points climb up and down on a continual basis, leaving you flummoxed. So use your discretion, says Ganesha.
From 12.50 to 13.50, go for fresh dealings in Nifty. This time, Nifty may climb up, but fluctuations are also predicted. Ganesha avoids accurate points. Stay in front of the screen.
From 13.50 to 15.30, you may find yourself in troubled waters, because of others. The movement of Jupiter from your sign towards the other, will signal the arrival of profits. This time Nifty may slide down, but to what extend, that Ganesha and you very well know.
Gujarati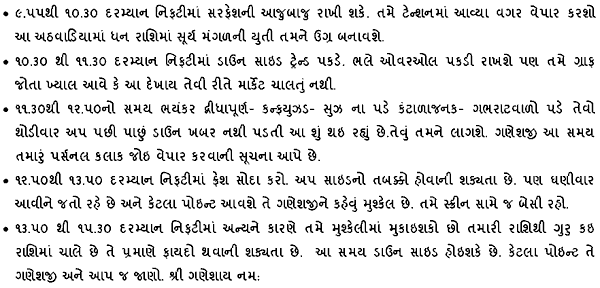 Hindi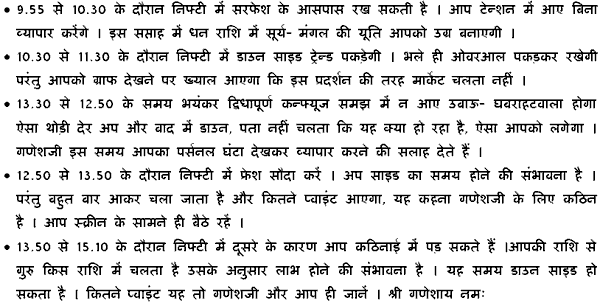 With Ganesha's Grace,
Dharmeshh Joshi,
09909941816
www.GaneshaSpeaks.com