Market (Sensex, Nifty) predictions for 18th December, 2009
For better understanding of our Nifty predictions for a given period, it is essential that you keep in mind the predictions given in the previous period, says Ganesha.
Read the entire day's prediction before making up your mind; this will help you maximise gains and minimise losses.
For every prediction, expect a variation of 10 minutes.
On December 20, 2009, Jupiter is changing its sun sign. And its effects will start showing from December 18, 2009 onwards. The market will go haywire. You will not know what to do. Ganesha advises you to avoid taking a long-term stand on anything. Square your positions daily.
Nifty will be particularly unpredictable on December 18, 21, 22, 23 and 30.
Don't take a position on Nifty on 23, 24, and 29 December, 2009.
For January 2010, the following dates will be extremely volatile, and will see extraordinary fluctuation in the market: 1, 5, 7, 12, 13, 14, 15 178, 28, 29 (stay away from the Pharma sector during these days).
Today and the remaining days of December are simply weired. It is difficult to predict. Market will be treacherously volatile.
Sun, Moon, Mercury, Rahu and Pluto are in fire elements.
During Navmasa, exalted Sun along with debilitated Saturn can lead to wrong decision by the central government.
Fundamental, technical, chart, traders, everyone and everything will get confused. So follow Nifty wherever it goes.
Today is the day to freak out at the market. Don't waste your time in intra-day.
See you next week when Jupiter would have changed zodiac and Ganesha signs off hoping that you remember the prediction that we had given 6 weeks back, and act accordingly .
Gujarati


Hindi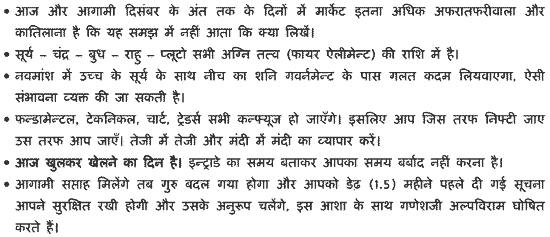 With Ganesha's Grace,
Dharmeshh Joshi,
09909941816
www.GaneshaSpeaks.com