Market (Sensex, Nifty) predictions for 16th December, 2009
For better understanding of our Nifty predictions for a given period, it is essential that you keep in mind the predictions given in the previous period, says Ganesha.
Read the entire day's prediction before making up your mind; this will help you maximise gains and minimise losses.
For every prediction, expect a variation of 10 minutes.
On December 20, 2009, Jupiter is changing its sun sign. And its effects will start showing from December 18, 2009 onwards. The market will go haywire. You will not know what to do. Ganesha advises you to avoid taking a long-term stand on anything. Square your positions daily.
Nifty will be particularly unpredictable on December 18, 21, 22, 23 and 30.
Don't take a position on Nifty on 23, 24, and 29 December, 2009.
For January 2010, the following dates will be extremely volatile, and will see extraordinary fluctuation in the market: 1, 5, 7, 12, 13, 14, 15 178, 28, 29 (stay away from the Pharma sector during these days). It's Amavasya today, and moon is in the Jyeshtha nakshatra: this basically means that today is not a good day.
But today Nifty is likely to have a strong opening. However, the day's over all weightage is very less. So don't indulge in PTST and BTST.
10:05 to 11:00 – During this period, be careful where you tread and do your homework well before you start trading. Follow the trend closely and try to make use of both the positive and negative trends. However, the over all weightage is good.
The rest of the day you will be busy counting sheep and finding novel ways of killing time, while the boring and uneventful. The most you can do during this period is jobbing.
From 11:00 to 12:40 – Nifty may make a reverse formation.
12:40 to 14:30 – Nifty may first move up, then down, then up again. You can make a lot of money by playing intra-day on both sides. But if you fail to make timely exilt, Ganesha can't help you.
Gujarati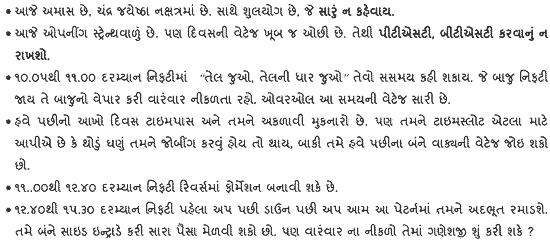 Hindi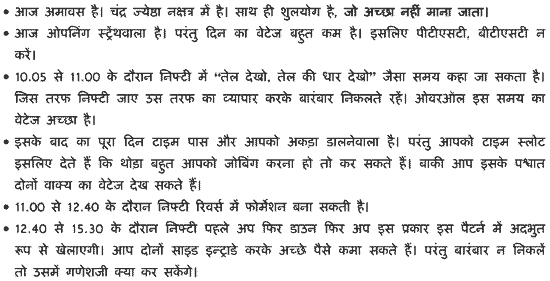 With Ganesha's Grace,
Dharmeshh Joshi,
09909941816
www.GaneshaSpeaks.com