Market (Sensex, Nifty) predictions for 13th October, 2008
The prediction of every phase must be considered in comparison to the prediction of the previous phase.
Wait till the opening of the market as market may slip down after the opening.
When the market slips down buying increases and then the index goes up.
The index raises and makes you gamble.
After making you gamble it may suddenly rise and then fall and this brings you to the end of the day. This trend will prevail throughout the week. Till October 05, 2008 the opening of the market may not be good.
To design your destiny by knowing your future you can seek our help by showing us your horoscope. This will help you know the areas in which you can achieve success apart from the share market. This can help you avoid the disastrous period in the share market as envisaged by Ganesha.
In the previous week Ganesha had informed you about the need to be cautious while trading in the share market. And,viewing the movements in the share market, in the previous week, you must have realized the correctness of Ganesha's prediction.
Ganesha advises you to wait till the opening of Nifty. This period of waiting can continue till 10:10.From 10:10 to 11:00, Ganesha does not view a good weightage in Nifty. There may be selling pressure in heavy weight scrips during this period.
From 11:00 to 14:00, in comparison to the previous period, there may be buying in Nifty. But, do not expect miracles to happen everyday.
From 14:00 to 15:30, investors and local fund agencies may invest heavily but it may be in scrips. Hence, trade accordingly.
Gujarati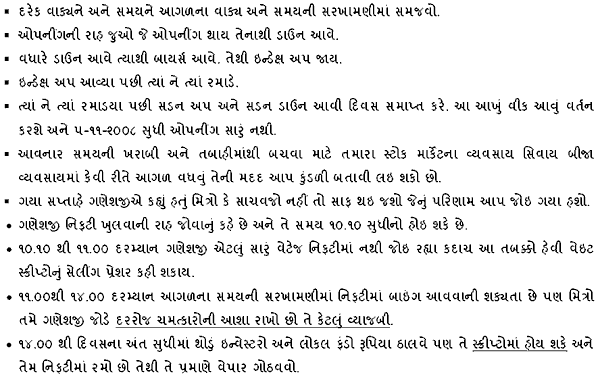 Hindi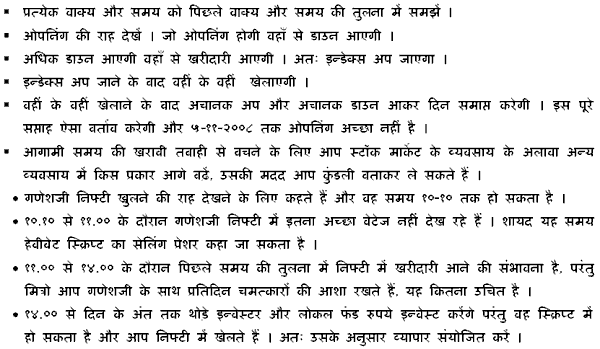 With Ganesha's Grace,
Dharmeshh Joshi,
09909941816
www.GaneshaSpeaks.com