Market (Sensex, Nifty) predictions for 13th July, 2009
The predictions for every phase must be considered in comparison to the predictions for the previous phase.
Take decisions only after going through the current and penultimate predictions thoroughly, so that you can maximise gains and minimise losses.
Since July 1, Ganesha has maintained that the forthcoming July dates – 6, 15, 16 and 17 – are not favourable. Those who invested on July 6, know what was he talking about.
Ganesha advises you to stay away from BTST and PTST. Also, don't rely on the market opening and risk only as much as you can  afford to.
Ask Ganesha how to maximise your profits in the stock market during the July 22 solar eclipse
Intraday traders are advised to follow the predictions listed below:
Nifty may open around the surface. On the whole, Nifty may catch downward trend till 10:37.
From 10:37 to 11:20, Nifty may move upwards in comparison to the previous phase
From 11:20 to 11:50, Nifty may drop a little. However, the weightage of the day is positive.
Don't trade on the basis of stock reviews or stock alerts, advises Ganesha.
From 11:50 to 13:50, Nifty may gain momentum. But instead of getting carried and aiming huge profits, keep booking profits.
Nifty may move upwards and awaken your hopes between 13:50 and 15:30. But, Ganesha foresees corrections the moment you start trading. Consider the weightage and trade accordingly.
Gujarati


Hindi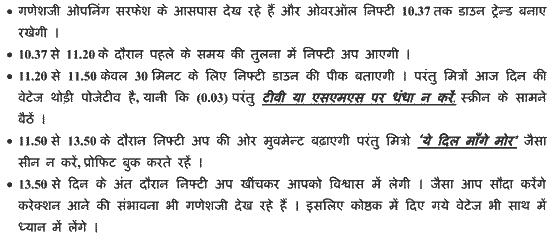 With Ganesha's Grace,
Dharmeshh Joshi,
09909941816
www.GaneshaSpeaks.com