Market (Sensex, Nifty) predictions for 13th January, 2010
For better understanding of our Nifty predictions for a given period, it is essential that you keep in mind the predictions given in the previous period, says Ganesha.
For every prediction, expect a variation of 10 minutes.
Friends, the net weightage for January 2010 is 0.05, which was only seen in February 2008, when the market was marginally positive, and on June 2008, when market shed a lot of points. Thus, it is advisable to avoid a long-position during the month. Ganesha suggests that you rely on F&O or call-put during this month. There will be no clear trend.
This week is best suited for intra-day traders.
Sun, Moon, Mercury, Venus, Rahu and Pluto, all these planets are in Sagittarius. Because of this, Nifty is likely to follow an unpredictable pattern today.
Also, it's Amavasya today. Thus from 9:10 to 10:05, be careful if you don't fall into a trap because of a market leader. After the opening, Nifty may go soft after some time.
10:05 to 11:15- If the Nifty does go soft as per the previous prediction, then you can carry out step-by-step positive jobbing during this period. An important thing to keep in mind here is to keep on cutting deals rapidly. Don't stick on a share for too long, or you may have to regret it later.
11:15 to 13:00- During this period, Nifty is at its mischievous best. It will lure you into entering the dangling a carrot of positive trend. The moment you are inside, it will fall and take you will it.
13:00 to 15:30- During this period, Ganesha advises you to take and follow an expert's advice, irrespective of how good you believe you are at the stock market. No need to show off how good you are at the market, you may be in for a rude shock. Jobbing may be your best course of action.
Gujarati


Hindi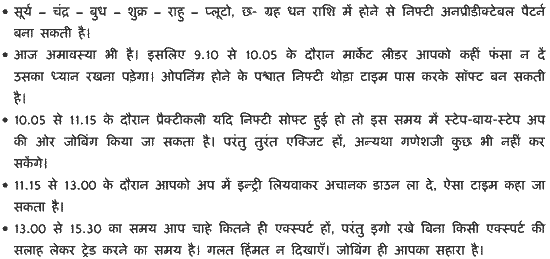 With Ganesha's Grace,
Dharmeshh Joshi,
09909941816
www.GaneshaSpeaks.com