Market (Sensex, Nifty) predictions for 11th December, 2009
For better understanding of our Nifty predictions for a given period, it is essential that you keep in mind the predictions given in the previous period, says Ganesha.
Read the entire day's prediction before making up your mind; this will help you maximise gains and minimise losses.
For every prediction, expect a variation of 10 minutes.
Jupiter is changing sun sign on December 20, 2009. Its effects will become evident from December 18, 2009. This is likely to create chaos at the market, and you may have problems determining the right course of action. Don't put too much on the line at the market. Take minimal risks. Keep squaring your position on daily basis during this period.
Trend at Nifty is likely to be particularly confusing on December 18, 21, 22, 23, and 30. Alert! Don't make a position on bank Nifty on December 23, 24 and 29.
The entire day is worthless. You will largely get frustrated with changing trends and waste of your time and money.
10:05 to 11:35 – Nifty is likely to start jumping up. So, book profits at every high. If you can job according the time slot than you are in for good money.
11:35 to 12:00 – The weightage for this period is zero. Don't be too greedy during this period.
12:00 to 14:40 – The weightage is quite close to zero – it is merely 0.01. So, you use your own discretion while doing business at Nifty. Overall it is best to while away this time doing nothing.
14:40 to 15:05 – Forget everything else, you may have to cut new deals. The weightage is again zero.
15:05 to 15:30 – Nifty will show positive signs. But the last few minutes of the last day of the week may not fetch you anything.
Gujarati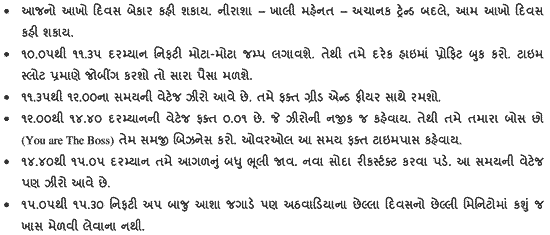 Hindi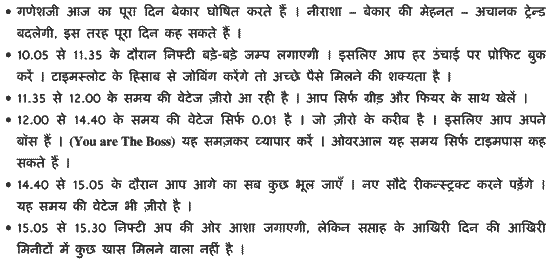 With Ganesha's Grace,
Dharmeshh Joshi,
09909941816
www.GaneshaSpeaks.com