For better understanding of our Nifty predictions for a given period, it is essential that you keep in mind the predictions given in the previous period.
These NIFTY predictions are given by our Astrologers a week in advance. They still maintain a very good level of accuracy. It is advisable to use them judiciously.
If possible, avoid investing in realty stocks in the period between 26th May 2010 and 21st June 2010, and 1st November 2010 and 30th December 2010, as there is a possibility of an earthquake in Asia.
The market is likely to be volatile and will be subject to fluctuations on 1, 2, 7, 10, 18, 21, 23, 25, 28
The yearly pattern is down while the monthly pattern is up. Overall, Nifty's performance this week will determine its performance next month. Ganesha also advises you to be careful while trading on Monday.
The market will see a soft opening in the last four days of this week. So, avoid trading in BTST and PTST, advises Ganesha.
Nifty, in the following week, may be relatively soft compared to its value on 04-06-2010.
Nifty is likely to hover around the surface, on the negative side in the period between 9:00 and 9:25.
Nifty is likely to move up in the period between 9:25 and 12:30; hedging would fetch you profits.
The number of decline shares is likely to increase in the period between 12:30 and 13:10.
Play around on the upper side with new ideas in the period between 13:10 and 14:00.
Nifty will help you fetch profits by pulling itself from the negative axis to the positive axis in the period between 14:00 and 15:30. This way, the day and hence the week comes to an end.

Gujarati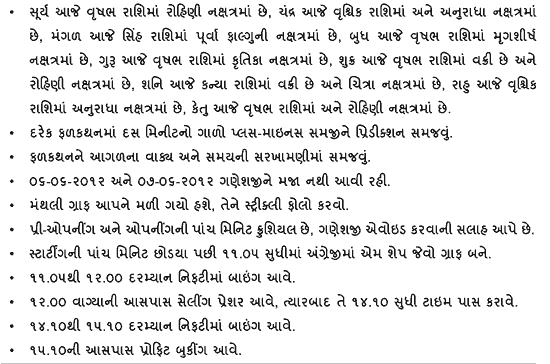 Hindi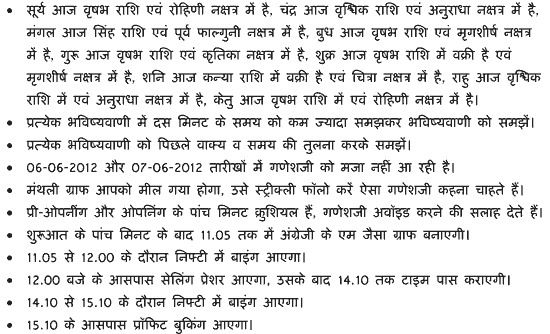 For further details, please contact customer care. Telephone: 079 65221416
Mobile: +91 – 9909941816

Email: stockmarket@ganeshaspeaks.com