Consider 10 minutes plus and minus in each prediction and act accordingly.
Ganesha's advice to brace yourself is for the month of September 2010, so don't panic. Do not feel worried about August 2010 as the graph shows a good weekly weightage.
These NIFTY predictions are made by our astrologers a week in advance. In these predictions, technical, fundamental, foreign market, crude oil, gold, inflation are avoided. It is advisable that you wisely use these predictions as a tool.
Ganesha sees no particular trend from 6th September to 9th September. Be alert, as the market is taking time to decide a pattern.
From 9:05 to 10:25, Nifty may show a bullish trend.
From 10:25 to 12:35, take a break, as the time period is not very favourable. Consider no trading equal to profits.
12:35 to 13:25, Nifty may show profit booking.
From 13:25 onwards, including weekend, there may be a buying trend at Nifty, but is not reliable. Move ahead with stop-loss.
Gujarati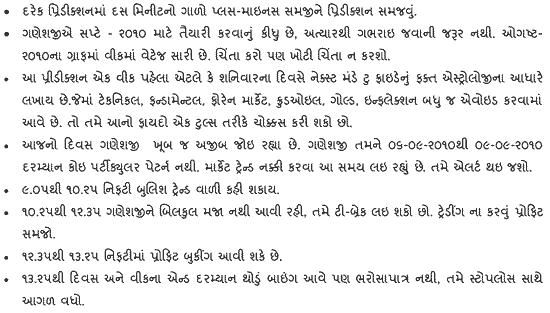 Hindi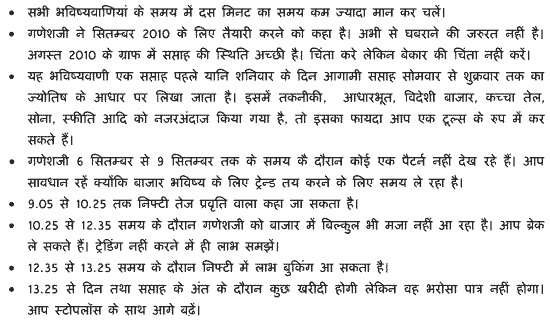 For further details, please contact customer care.
Telephone: 079 65221416
Mobile: +91 – 9909941816
Email: stockmarket@ganeshaspeaks.com