Consider 10 minutes plus and minus in each prediction and act accordingly.
Ganesha's advice to brace yourself is for the month of September 2010, so don't panic. Do not feel worried about August 2010 as the graph shows a good weekly weightage.
These NIFTY predictions are made by our astrologers a week in advance. In these predictions, technical, fundamental, foreign market, crude oil, gold, inflation are avoided. It is advisable that you wisely use these predictions as a tool.
From today, Venus enters Libra, which will stay till January 1, 2011. Due to this, the overall period may be good to achieve targets for those whose names begin with letters 'R' and 'T'.
Those whose demat ID's total is 4, 8, 13, 17, 22, 26, 31 need to do some remedy.
Nifty may be relaxed in the beginning and stay on the upper side till 11:05. It may create pressure in last 45 minutes.
11:05 to 13:30, it's not a useful period. The market may be direction-less, you may gain less money than expected, so be prepared.
From 13:30 till the end of the trading period, you may come across a short term gain on the upper side.
Gujarati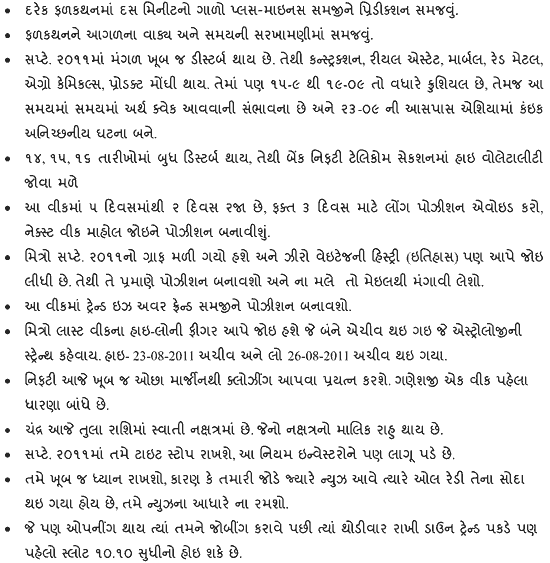 Hindi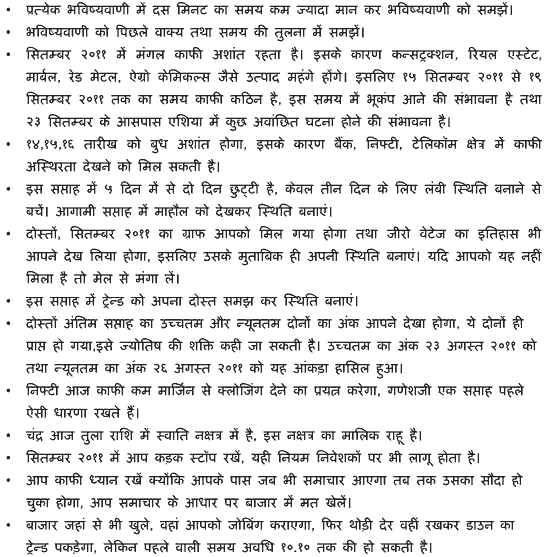 For further details, please contact customer care.
Telephone: 079 65221416
Mobile: +91 – 9909941816
Email: stockmarket@ganeshaspeaks.com