The lunar eclipse on 26th June, 2010 is taking place in Sagittarius. Hence, those with Moon sign Sagittarius and Gemini are likely to experience stress in the coming one and a half months. But, on worshipping Lord Shiva, the negative results are likely to neutralise.
Crucial, wide fluctuation dates in the month of July: 5, 9, 11 (Solar eclipse will not be visible in India) 12, 20, 21, 22, 23, 24.
Oct 2010 & Dec 2010 seems to be a negative period, as per Ganesha's views. During this period, you may even miss to refer to the monthly chart.
22nd June 2010 onwards, there may be a frequent reaction change in Nifty, which may be fast and sharp.
From 9:05 to 9:20, there may be an undertone upward movement in Nifty.
From 9:20 to 9:45 there may be a downward fluctuation in Nifty.
From 9:45 to 12:45 jobbing is the only option you may be left with as Nifty may change trends frequently.
From 12:45 to 14:50 Ganesha foresees an increase in the price at Nifty.
From 14:50 till end of the trading day, there is a possibility that Nifty may under perform.
Gujarati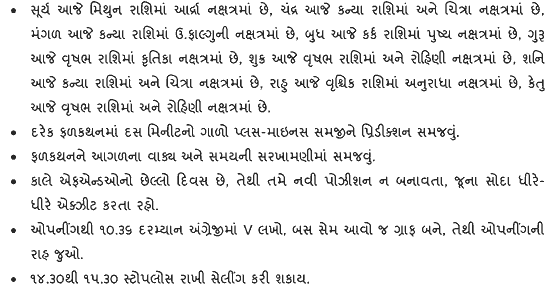 Hindi

For further details, please contact customer care. Telephone: 079 65221416
Mobile: +91 – 9909941816
Email: stockmarket@ganeshaspeaks.com