For better understanding of our Nifty predictions for a given period, it is essential that you keep in mind the predictions given in the previous period, says Ganesha.
For every prediction, expect a variation of 10 minutes.
Avoid PTST and BTST during this week.
Don't make any hurried decisions during March-2010.
This week, don't keep any position during the 10 minute period around 11:15 and 12:40. Keep this in mind for the entire week, insists Ganesha.
During last 3 weeks, Nifty remained within the confines of a narrow range of -37 points because the weightage for February 2010 was zero.
This week is only for intra-day traders. Others should stay away from the stock market.
Today, not doing anything will be a profit in itself. Any kind of trading at Nifty will be risky. So trade at your own risk. Ganesha, however, is not in favour of risks today.
9:10 to 9:50- Nifty will hover around the surface, as indicated by the weightage.
9:50 to 10:25- Nifty may move up.
10:25 to 12:00- Nifty is likely to go a little soft.
12:00 to 12:30- Nifty will move up again.
12:30 to 13:50- Take a break from the market. It'll be unpredictable, volatile and stressful. If you still go ahead and take a risk, you will not know what has hit you.
13:50 to 14:25- Ganesha willing, Nifty may go up.
14:25 to 15:30- Don't do anything, which is more or less the pattern for the entire week. A bad time to invest your money in the market.

Gujarati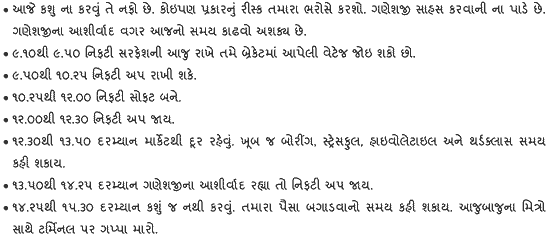 Hindi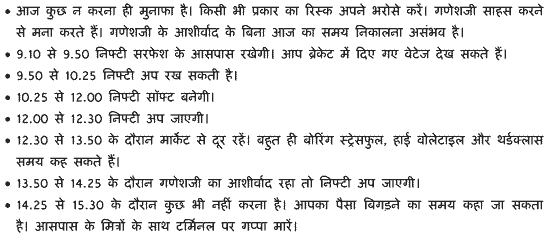 For further details, please contact customer care. Telephone: 079 65221416
Mobile: +91 – 9909941816

Email: stockmarket@ganeshaspeaks.com