For better understanding of our Nifty predictions for a given period, it is essential that you keep in mind the predictions given in the previous period.
These NIFTY predictions are given by our Astrologers a week in advance. They still maintain a very good level of accuracy. It is advisable to use them judiciously.
Last week, Ganesha advised you to avoid trading in BTST and PTST stocks. Now you know why he advised you against it.
Intraday trading on 27th May 2010 will be risky, but for arbitragers, the day will be favourable.
If possible, avoid investing in realty stocks in the period between 26th May 2010 and 21st June 2010, and 1st November 2010 and 30th December 2010, as there is a possibility of an earthquake in Asia.
It is wise not to rely on the opening period between 9:00 and 9:15. Let this time pass, do not trade during this period. Try and stay in one particular trading range.
You will have to trade wisely and patiently in the period between 9:15 and 10:25 as the index may display sudden dips and highs during this period.
Jobbing on the upper side may be the best option for you in the period between 10:25 and 11:20.
Between 11:20 and 11:50, and 11:50 and 12:50 is perfect for arbitraging. Also, the market will most likely correct itself in the first phase, whereas, in the second phase, the market may start looking up.
From 12:50 till closure, market performance will be mixed. You can trade on both the sides during this period.
Gujarati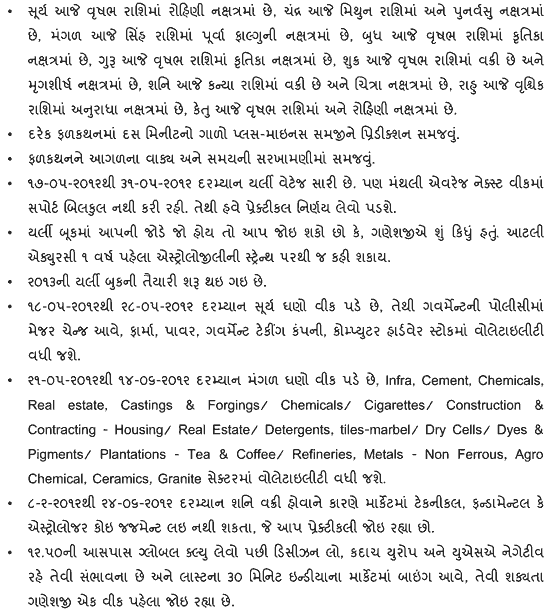 Hindi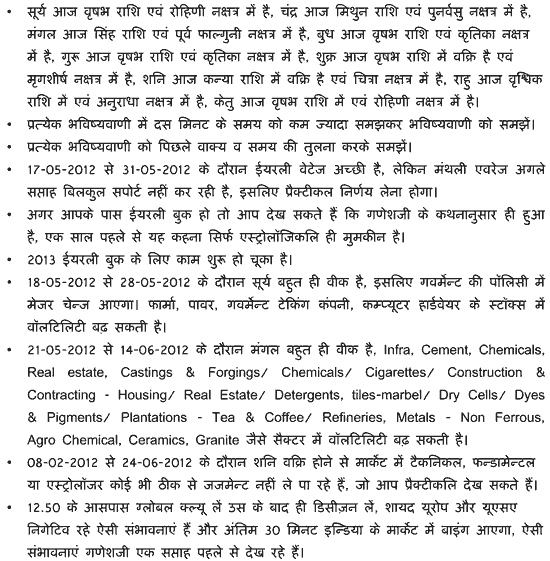 For further details, please contact customer care. Telephone: 079 65221416
Mobile: +91 – 9909941816

Email: stockmarket@ganeshaspeaks.com