For better understanding of our Nifty predictions for a given period, it is essential that you keep in mind the predictions given in the previous period.
These NIFTY predictions are given by our Astrologers a week in advance. They still maintain a very good level of accuracy. It is advisable to use them judiciously.
In each given prediction, the time may vary by ten minutes on either sides.
Ganesha says it is very likely that from 22nd June 2010, there will be frequent reaction change and it may be fast and sharp.
From 9:00 to 10:15, In this time frame, Nifty is likely to give a positive note and remain steady in the beginning, and is likely to create pressure in the end.
From 10:15 to 11:25, Nifty is likely to move upwards.
From 11:25 to 13:25, Nifty may show an up-down-up trend.
From 13:15 to 14:50, Nifty is likely to move upwards. Do not deal without stop loss.
From 14:50 to 15:30, there will be a major jump and a major dip at Nifty.

Gujarati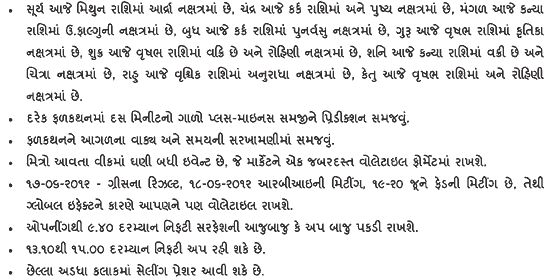 Hindi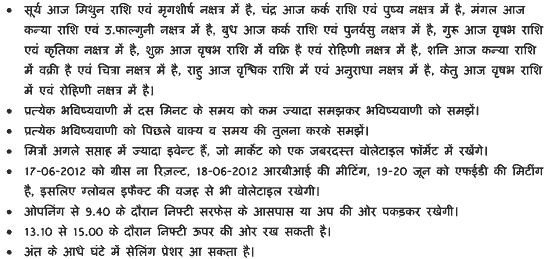 For further details, please contact customer care. Telephone: 079 65221416
Mobile: +91 – 9909941816

Email: stockmarket@ganeshaspeaks.com