A year ago, Ganesha had written in various websites and magazines that the period from May 2, 2010 to May 19, 2010 will be 'dangerous' for the traders. The recent trend at the stock market vindicates our prediction, yet again. So subscribe to our predictions to maximise your profits and minimise risks at the stock market.
Be careful during this weak. There is likely to be a significant selling pressure at the Nifty. Be particularly careful on May 20, 2010.
The weightage for today is zero. It is a day for those who do jobbing. But playing at the stock market without proper tools can land you in trouble.
9:00 to 10:30- This period, like the rest of the day, will be without direction. Formulate your own strategy. Stay away from the market today. But if you can't, forget everything about the market fundamentals, advice of astrologers and experts, or anything related to market because it wont work. You will be purely banking on your individual luck.
10:30 to 12:00- Nifty may go up.
12:00 to 15:30- Nifty will go up. But there will be tremendous selling pressure.
Tomorrow, BTST or PTST should be avoided.
Gujarati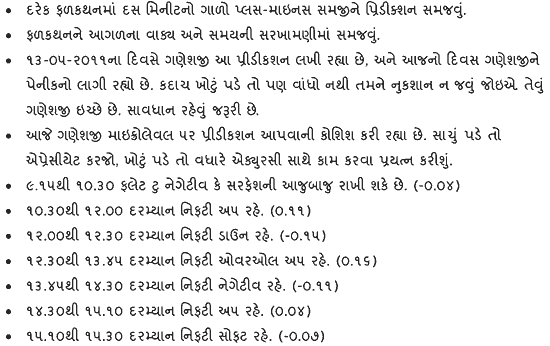 Hindi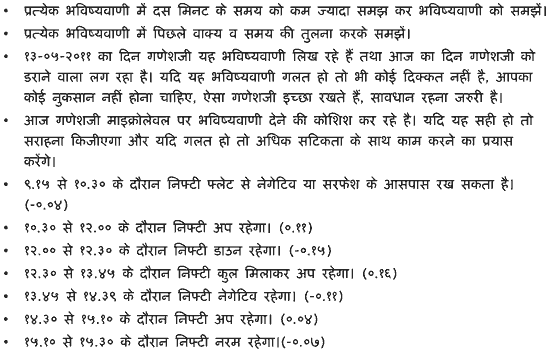 For further details, please contact customer care. Telephone: 079 65221416
Mobile: +91 – 9909941816

Email: stockmarket@ganeshaspeaks.com