These NIFTY predictions are made by our astrologers a week in advance. In these predictions, technical, fundamental, foreign market, crude oil, gold, inflation are avoided. It is advisable that you wisely use these predictions as a tool.
Ganesha advises you to compare the next prediction with the prediction of the previous time slot.
In each given prediction, the time may vary by ten minutes on either sides.
According to Ganesha, investors should refer to the yearly graph, traders should refer to the monthly and daily graph, and intraday traders should follow their fortune mantra along with the daily graph.
The month of August is astrologically crucial as far as Nifty is concerned as Venus in Virgo is a sign of debilitation and Jupiter is retrograde in Pisces.
Today, intraday is likely to experience zero twice, hence Ganesha advises you to be cautious.
From 9:05 to 9:15, wherever the market opens, it is likely to remain steady at the position for a while and later take a downward trend. Stay in the standby position.
From 9:15 to 10:25, Nifty is likely to remain on the lower side, says Ganesha.
From 10:25 to 11:50, the weightage may be zero. Nifty may remain in the range-bound area.
From 11:50 to 13:25, Ganesha sees an overall strength at Nifty, however, there will be some profit booking in the market. Plan accordingly.
From 13:25 to 15:30, may be a difficult phase. Finalize this time frame target and stop loss to trade safe.
Gujarati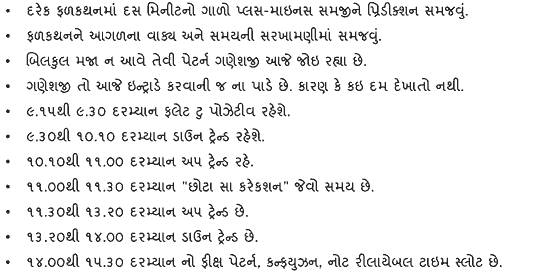 Hindi




For further details, please contact customer care. Telephone: 079 65221416
Mobile: +91 – 9909941816

Email: stockmarket@ganeshaspeaks.com