A year ago, Ganesha had written in various websites and magazines that the period from May 2, 2010 to May 19, 2010 will be 'dangerous' for the traders. The recent trend at the stock market vindicates our prediction, yet again. So subscribe to our predictions to maximise your profits and minimise risks at the stock market.
Be careful during this weak. There is likely to be a significant selling pressure at the Nifty. Be particularly careful on May 20, 2010.
9:00 to 10:10- It will be very difficult to understand the trend at Nifty. Avoid trading. But if you have to, stick to jobbing.
10:10 to 13:00- Barring a solitary correction, Nifty will slowly move up.
13:00 to 14:00- Nifty is likely to undergo a sudden dip. It is difficult to say by how many points.
14:00 to 15:30- Ganesha advises you to do jobbing in upward direction. But you may see the effect of profit booking by the end of this period.
Tomorrow is not a reliable day. So don't take a long position today.
Gujarati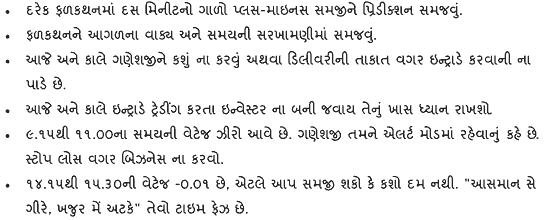 Hindi




For further details, please contact customer care. Telephone: 079 65221416
Mobile: +91 – 9909941816

Email: stockmarket@ganeshaspeaks.com