Market Sensex – Nifty Predictions, Sensex Nifty, 2010 Market Sensex for 16th July, 2010
On 12th July 2010, pharmaceutical, yellow coloured products, silk, and electrical appliances sectors are likely to be in news.
On 14th and 15th July 2010, printing, stationary, banking, and courier sectors are likely to be in news.
Today is the last day to do 'dabba trading'. Also, it is a day of wide fluctuations. So, Ganesha has given small time slots to help you trade better. Use all your tools or it may prove risky.
From 9:05 to 9:50, there may be buying in heavy weight scrips.
From 9:05 to 10:30, Nifty may show a bearish trend.
From 10:30 to 11:15, Nifty will search for a supporting level on the upper-side.
From 11:15 to 11:40, there may be a correction at Nifty.
From 11:40 to 13:30, there will be an upward movement at Nifty.
From 13:30 to14:15, there may be a panic-like situation at Nifty.
From 14: 15 to 15:30, after a downward slope at Nifty, there may be an upward trend.
Coming two weeks may experience an opening, which may lie between flat and positive. So, deal accordingly.
Gujarati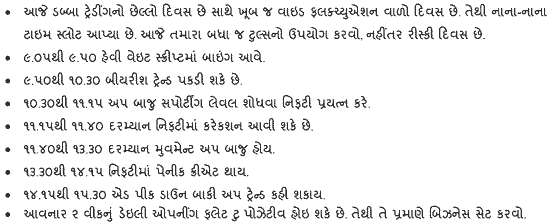 Hindi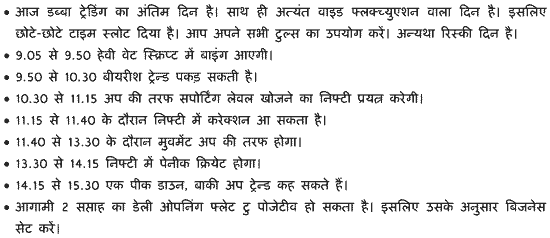 With Ganesha's Grace,
Dharmeshh Joshi,
09909941816
www.GaneshaSpeaks.com