Market Sensex – Nifty Predictions, Sensex Nifty, 2010 Market Sensex for 12th May, 2010
Jupiter has entered Pisces. So those belonging to Pisces sign will see all their unfinished work get completed, says Ganesha.
On Monday, Tuesday and Wednesday, you will start doing intra-day after the opening. Things may not be so good at the start of the day.
Investors can slowly buy till May 19, 2010.
The list of dates when the market will be volatile turned out to be accurate, says Ganesha.
Days in May 2010 when the market will be 7, 18, 20, 31 (Yearly weightage is not in support of Nifty)
After starting negatively, Nifty will move up step-by-step till 10:15.
10:15 to 11:00- Nifty will be down.
11:00 to 14:00- Nifty will go up. And even in this period Nifty will go a little soft from 12:30 to 12:40, with market changing trend rapidly.
14:00 to 14:40- Nifty will be down.
14:40 to to the end of the trading day – Nifty may move up.
Ganesha doesn't find tomorrow as a reliable day.
Gujarati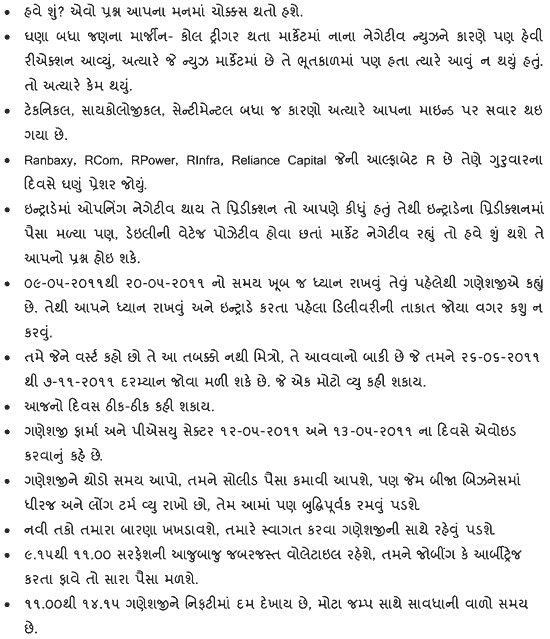 Hindi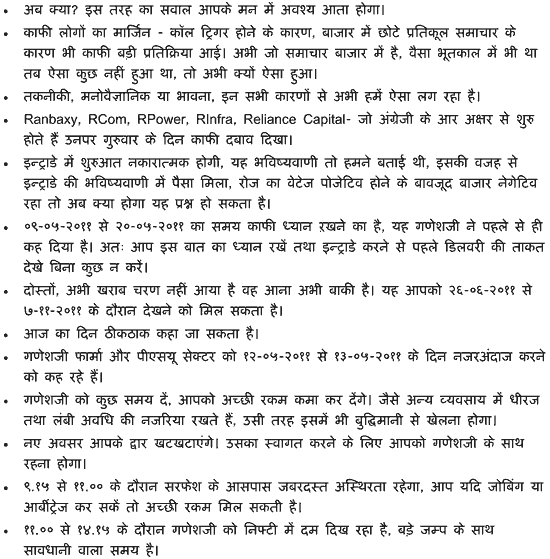 With Ganesha's Grace,
Dharmeshh Joshi,
09909941816
www.GaneshaSpeaks.com