Market Sensex – Nifty Predictions, Sensex Nifty, 2010 Market Sensex for 10th May, 2010
Jupiter has entered Pisces. So those belonging to Pisces sign will see all their unfinished work get completed, says Ganesha.
On Monday, Tuesday and Wednesday, you will start doing intra-day after the opening. Things may not be so good at the start of the day.
Investors can slowly buy till May 19, 2010.
The list of dates when the market will be volatile turned out to be accurate, says Ganesha.
Days in May 2010 when the market will be 7, 18, 20, 31 (Yearly weightage is not in support of Nifty)
On Monday and Tuesday, if Ganesha gives you a chance to stay at zero then try to exit.
Don't trust the opening period. Let some time pass.
9:15 to 9:45- Nifty will be extremely volatile and will make you deal with the stocks at both ends.
9:45 to 11:00- Ganesha foresees profit booking in heavyweight scrips.
11:00 to 14:00- The buying effect of banking shares will have a visible impact on Nifty.
14:00 to the end of the trading day – for the first 45 minutes of this period, Nifty will keep you down before suddenly making you do Jobbing in the positive direction.
Gujarati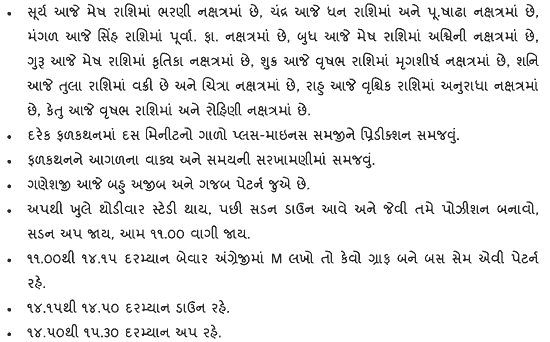 Hindi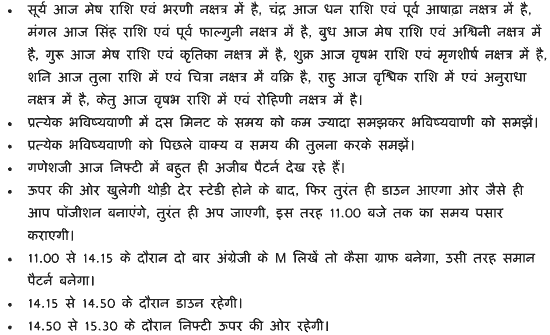 With Ganesha's Grace,
Dharmeshh Joshi,
09909941816
www.GaneshaSpeaks.com