Market Sensex – Nifty Predictions, Sensex Nifty, 2010 Market Sensex for 06th May, 2010
We had told you during the last week that there will be profit booking in the last 30 mins. You must have seen that the graph of the last week shows exactly that. This shows how astrology works.
The weightage you will experience during the month of May will be same as that you have seen during few months in the past couple of years (November 2008= -148 points, January 2009= -84 points, February 2009= -111 points). Thus you need to be very careful during this month.
The days in May when Nifty will be highly volatile- 3,4,7,9,11,17,18,20,31. (Keep in mind that the yearly weightage is not  supporting the Nifty)
Nifty was at 5201 points on 31st December, 2009 and after four months of 2010, it has come to the same position. If you have read Ganesha's predictions for the year 2010, which said that there is no strength in the market, you now know why Ganesha had said so.
These predictions for the coming week are written on the basis of astrology alone. The predictions are made on Friday and are for the next week, i.e., next Monday to Friday. So you can use this as a tool and change your daily position.
From opening to 9:30- Nifty may either stay at the surface or may become negative.
9:30 to 11:20- Nifty may move from up to down. So, do jobbing accordingly and keep exiting.
11:20 to 14:35- Nifty may show some improvement, but do not take any position in between 13:05 to 13:20.
14:35 to 15:20- Nifty is likely to see some selling pressure.
15:20 to the end of the trading day- During these ten minutes, there is likely to be some buying, but Ganesha advises you to refrain from trading.
Gujarati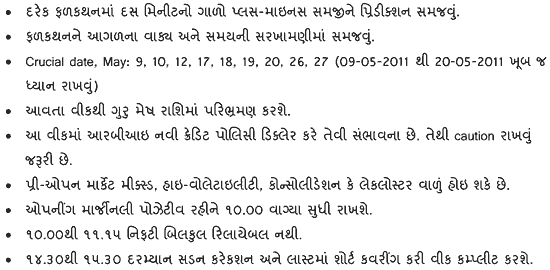 Hindi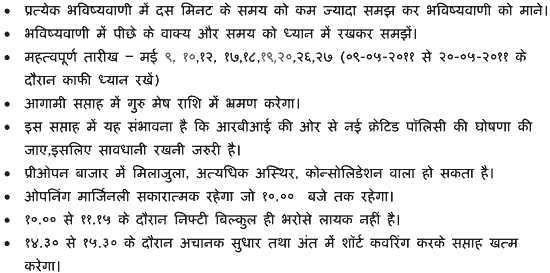 With Ganesha's Grace,
Dharmeshh Joshi,
09909941816
www.GaneshaSpeaks.com