2010 Market (Sensex, Nifty) predictions for 2nd February, 2010
For better understanding of our Nifty predictions for a given period, it is essential that you keep in mind the predictions given in the previous period, says Ganesha.
For every prediction, expect a variation of 10 minutes.
In our last line of the Nifty stock prediction on January 29, 2010, Ganesha had predicted that the week is going to end on a positive note. The Lord Almighty stands vindicated yet again, despite the ongoing negative phase.
In our prediction for January 4, 2010, we had warned you against taking a long position during this month and had advised you to rely on F&O and call-put instead. There is no clear trend during this month. So friends if you still have that file, why don't you read it carefully once again.
Some dates in the month of February when the market is likely to be very active and volatile: 9, 10, 22 and 25 February.
Ganesha would like you to wait till the market opens today. Till 9:45, the Nifty will not be in strength.
9:45 to 10:45- Nifty may see significant buying during this period.
10:45 to 11:25- Nifty is likely to experience a small correction. Only god knows how many points is it going to shed, be very careful.
11:25 to 12:40- Nifty will gain a little strength during this period. But don't be surprised if it undergoes another correction.
12:40 to 13:25- Nifty is likely to drop. This is a phase when confusion and chaos will rule over the market.
13:25 to 15:30- Saturn is aspecting Moon and forming a Vish Yog. Nifty will form a head-and-shoulder pattern . The weightage for this period is just -0.01. So now you know what to do.
Gujarati


Hindi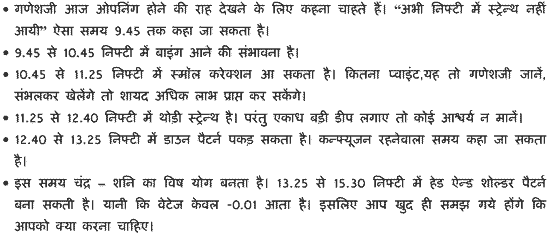 For further details, please contact customer care. Telephone: 079 65221416
Mobile: +91 – 9909941816
Email: stockmarket@ganeshaspeaks.com