After having a close look at your birth chart, divisional charts and Dasha Bhuktis along with planetary transits, you may have following experiences during Jupiter Transit.




Birth Particulars
Gender
Male
Latitude
22N43
Birth Date
13 Sep 1988
Longitude
75E51
Birth Day
Tuesday
Lagna
Taurus-4:58:14
Birth Time
22:06 hrs
Aynamsh
23:41:43
Birth Place
Indore
Moon Sign
Virgo
Country
India
Birth Nakshatra
Chitra
Timezone
0530 hrs
Nakshatra Pada
1
Avakhada Chakra (Your Birth Panchang)
Description: The table shown here contains various astrological terms which are obtained from your own Moon's position. Hence, this table is very useful in Vedic Astrology as it shows your own personalized information. This helps the native to determine the compatibility with others.
Birth Yog
Brahm
Birth Vasya
Manav
Birth Karan
Taitil
Birth Yoni
Vyaghra
Birth Varga
Mushak
Birth Gana
Rakshas
Birth Varna
Vaishya
Birth Yunja
Madhya
Birth Tatva
Bhumi
Birth Nadi
Madhya
Ghat Chakra
Description: As the name suggests, Ghaat literally means negative or inauspicious. This table shows your personalized negative phenomenon of Panchang in which you should take extra care and precaution. Plus, the suggested day, tithi, month, nakshatra etc… should also be avoided to initiate any new or auspicious work.
Month Bhadrapad
Tithi
Shuklatritiya
Day Saturday
Nakshtra
Shravan
Yog Shul
Karan Kaulav
Prahar First
MaleMoon Gemini
FemaleMoon Scorpio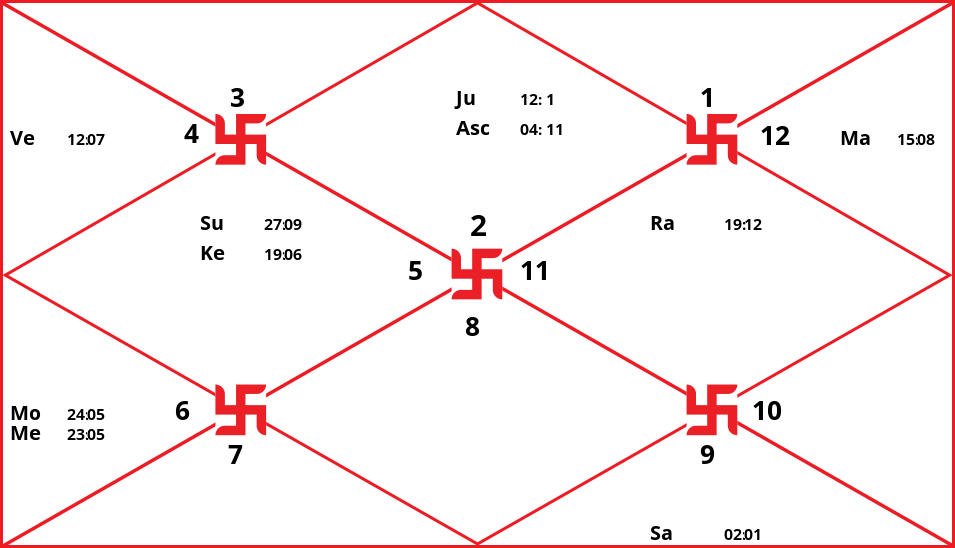 | Grah | Rashi-Ansh | Nakshtra-Pad | Ra Swa | Na Swa | Awastha |
| --- | --- | --- | --- | --- | --- |
| Lagna | Taurus- 4:58:14 | Krutika –3 | Venus | Sun | Mruta |
| Sun | Leo- 27:24:05 | Uttarafalguni –1 | Sun | Sun | Mruta |
| Moon | Virgo- 24:31:12 | Chitra –1 | Mercury | Mars | Balya |
| Mars | Pisces- 15:32:36 | Uttarabhadrapad –4 | Jupiter | Saturn | Yuva |
| Mercury | Virgo- 23:50:51 | Chitra –1 | Mercury | Mars | Kumar |
| Jupiter | Taurus- 12:14:21 | Rohini –1 | Venus | Moon | Yuva |
| Venus | Cancer- 12:56:14 | Pushya –3 | Moon | Saturn | Yuva |
| Saturn | Sagittarius- 02:23:58 | Mool –1 | Jupiter | Ketu | Balya |
| Rahu | Aquarius- 19:54:21 | Satbhisha –4 | Saturn | Rahu | Vruddha |
| Ketu | Leo- 19:54:21 | Purvafalguni –2 | Sun | Venus | Vruddha |
| Harshal | Sagittarius- 03:22:17 | Mool –2 | Jupiter | Ketu | Balya |
| Neptune | Sagittarius- 13:44:17 | Purvashadha –1 | Jupiter | Venus | Yuva |
| Pluto | Libra- 16:54:40 | Swati –4 | Venus | Rahu | Yuva |