Admire Lord Ganesha On The Holy Occasion Of Krishnapingala Sankashti Chaturthi
Published on May 26, 2020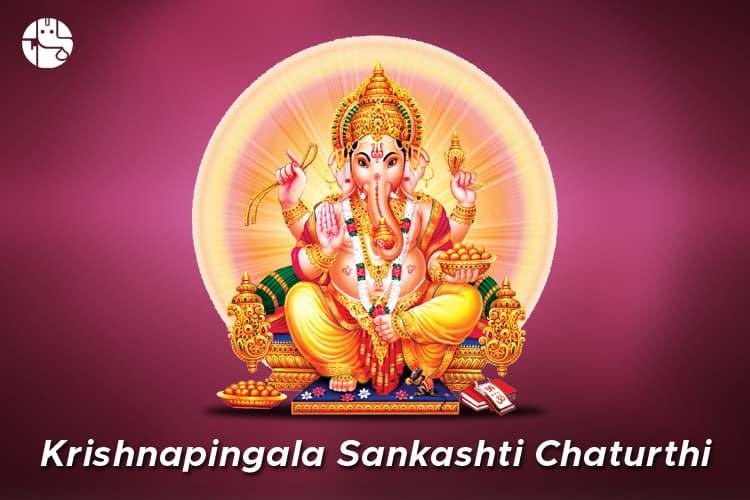 As per the Hindu Calendar, every lunar month has two Chaturthi tithis. The one that comes after Puranmasi or full moon during Krishna Paksha is known as Sankashti Chaturthi, whereas the one that comes after Amavasya or new moon day during Shukla Paksha is known as Vinayaka Chaturthi. There are a total of 12 Sankashti Chaturthi Vrats in the year and Krishnapingala Sankashti Chaturthi is one of the 12 Sankatahara Ganesha Chaturthi Vratas. Every month, different forms of Lord Ganesha are worshipped along with different Peetha, below is the detail:
Important Date And Timings For Krishna Pingala Sankashti Chaturthi
Krishnapingala Sankashti Chaturthi 2023 Date: 7th June, Wednesday
Moonrise on Sankashti Day: 10:50 PM
Chaturthi Tithi Begins: 12:50 AM on 7th June 2023
Chaturthi Tithi Ends: 9:50 PM on 7th June 2023
Name of Lord Ganesha: Krishna Pingala Maha Ganpati
Name of Peeta: Sri Shakti Ganapati Peetha
Krishna Pingala Sankashti Chaturthi Significance
Krishna Pingala Sankashti Chaturthi falls in Jyestha Month as per the Amavasyant calendar followed in Gujarat, Maharashtra, Karnataka, Telangana, and Andhra Pradesh. According to the North Indian Hindu Calendar, it falls in Ashada month. It is believed that Lord Ganesha bestows his presence on earth for all his devotees on Krishna Pingala Sankashti Chaturthi.
Each month, Ganesha is worshipped with a different name and Peeta. Also, Sankashta Ganapati Puja is performed on each Sankashti Chaturthi. Different kathas are associated with each Sankashti Chaturthi. Traditional stories tell that it is the day when Lord Ganesha was declared as a supreme god by Lord Shiva. Observing the vrat of Krishnapingala Sankashti Chaturthi keeps devotees away from every problem they face in life and gets relief from all doshas and sins. Additionally, it is the day that dispels all the difficulties, hurdles, and bestows the devotees with health, wealth, and prosperity. Invoke the blessing of Lord Shiva to gain health, wealth, prosperity, and happiness, by performing Rudrabhishekam Puja!  
Benefits Of Krishna Pingala Sankashti Chaturthi
By worshipping Lord Ganesha and observing fast on the day of Krishnapingla Sankashti Chaturthi is likely to fulfill all your wishes.

Lord Ganesha will vanish all the negative energies coming your way and help you overcome the hurdles in life.

Offering prayer on Krishna Pingla Sankashti Chaturthi will wipe all the worries and help you solve complex situations from your life.

God Ganesha bestows you and your family with prosperity and longevity.
Krishna Pingla Sankashti Chaturthi Rituals
On the day of Krishnapingla Sankashti Chaturthi, there is special importance of sighting the moon. Devotees get up early in the morning, get ready and dedicate the day worshipping Lord Ganesha. Many devotees also keep Vrat of Krishnapingla Sankashti Chaturthi wherein they are allowed to eat fruits and milk items. The idol of Lord Ganesha is decorated with durva grass and fresh flowers. A lamp is lit and Vedic mantras of Lord Ganesha are chanted. In the evening, Sankashti puja is performed dedicated to the moon or Chandra  God.
Also, on this day, special Naivedya or Bhog is prepared, which includes the favorite dish of Lord Ganesha, Modak (a sweet made up of coconut and jaggery). Ganesha Aarti is performed and later the prasad is distributed among all devotees. Consult our expert astrologers for personalized rituals for Sankashti Chaturthi. 
Hope all your dreams are fulfilled on this day, Happy Krishnapingla Sankashti Chaturthi!
With Ganesha's Grace,
The GaneshaSpeaks.com Team