2023 Sheetala Saptami Date, Significance & Rituals Ganeshaspeaks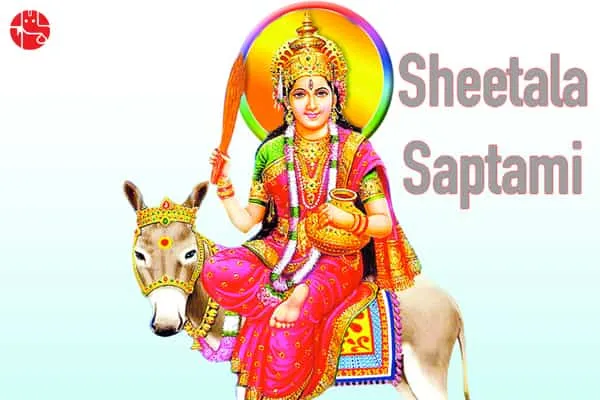 Sheetala Saptami is a festival that is celebrated to appease the Goddess Sheetala who is said to ward off diseases such as smallpox, chickenpox, and measles. It is celebrated seven days after Holi, and Sheetala Saptami 2023 falls on 14th March.
---
Sheetala Saptami Celebrations In Different Regions
Another name for the festival of Sheetala  Saptamiis Basoda (stale food) because people do not light a fire to cook food while observing Sheetala Saptami and eat cold food cooked the previous day. The festival is more predominant in the western and northern states of the country such as Gujarat, Rajasthan and Uttar Pradesh, but in general, is celebrated all over the country. In Gujarat, however, the more prevalent custom is to celebrate Sheetala Saptami on similar lines seven days after Janmashtami, also dedicated to the Goddess Sheetala. No fresh food is cooked on this day. In the south, Goddess Sheetala is worshipped as 'Goddess Poleramma' or 'Goddess Mariamman'.
---
Sheetala Saptami Rituals And Tradition
Goddess Sheetala Devi is worshipped on the day of Sheetala Saptami. People get up early in the morning and bath in cold water. Thereupon they visit temples dedicated to Sheetala Mata to offer their prayers. Various rituals are performed on this day for gaining the blessings of the Goddess for a peaceful and happy life.
Devotees also read the Sheetala Saptami Vrat Katha on this auspicious day.
On Sheetala Saptami some of the devotees also get a 'mundan'  (shaving of the head) done in the honour of Goddess Sheetala.
Since eating fresh or hot food is prohibited on this day, people do not cook food on this day, but consume food which is prepared on the previous day.
Some devotees observe a Sheetala Saptami vrat on this day to appease the Goddess. Women mostly keep this fast for the health and well-being of their children.
---
Significance Of Sheetala Saptami
The significance of Sheetala Saptami is mentioned in the 'Skanda Purana'. The festival Sheetala Saptami is dedicated to Goddess Sheetala. In Hindu mythology, Goddess Sheetala Devi is considered to be an incarnation of Goddess Parvati and Goddess Durga. Goddess Sheetala is known for both inflicting people with chickenpox or smallpox and healing them. Hindu devotees, therefore, worship Sheetala Mata on this day to protect their children from such diseases. The word 'Sheetala' means 'cool' and it is believed that the Goddess cures the diseases with her coolness. In some rural regions of India, people even practice animal sacrifice to please the Goddess.
With Ganesha's Grace,
The GaneshaSpeaks.com Team
To Get Your Personalised Solutions! Talk To Astrologer Now.
---
---
Get 100% Cashback On First Consultation