Which Planet Does Each Of The Nine Goddesses Represent? Find Out In This Article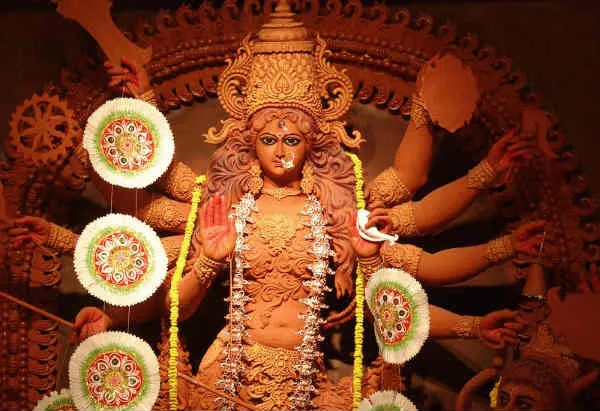 Get your personalised Birth Chart and detailed readings with our personalised hand-written Janampatri report.
Spirituality and Astrology are like two sides of the same coin and there is a strong connection that the deities have with each of the 9 planets. Navratri is the festival which is dedicated to the nine forms of Goddess Durga and you would be surprised to know that these 9 forms correspond to the planets. Find  out in this article which form of the mighty Goddess represents which planet.
By worshipping Devi Shailputri, you will be able to pacify The Sun 
By worshipping Devi Brahmacharini, you will be able to pacify Planet Saturn
By worshipping Devi Chandraghanta, you will be able to pacify Planet Moon
By worshipping Devi Kushmanda, you pacify Planet Jupiter
By worshipping Devi Skandamata, you pacify Planet Mars
By worshipping Devi Katyayani, you pacify Planet Venus
By worshipping Devi Kalratri, you pacify Planet Rahu
By worshipping Devi Maha Gauri, you pacify Planet Mercury
By worshipping Devi Siddhi Datri, you pacify Planet Ketu
This Navratri, invite wealth, happiness and all-round prosperity in your life with the help of the specially energised Shree Yantra.
Maha Navratri Remedies of Life by Ganesha:
Ganesha advises you follow the important remedies to secure your life.
Immerse the following idols of Durga to get rid of various problems. Idols of different substances have their own significance.
-Immerse gold-coated Durga idol in the river to pacify Jupiter and Mercury.
-Immerse Silver idol of Durga to pacify Moon and Venus.
-Immerse earthen idol of Durga to solve the adverse effect of Mars.
-The iron idol is meant to pacify Saturn, Rahu and Ketu.
Utter the Durga Mantra this festival to pacify the planets altogether: "Om Hreem Dum Durgayei Namah"
You will be surprised to know how this Mantra will attract eight kinds of cosmic energy transmitting through eight planets.
Let's break the mantra into parts and figure out which planet it is associated with.
"Om" will pacify the Sun. It will give you energy and positivity.
The Moon can be pacified by "Hreem". Things that are happening in your mind can be recognized by this chanting.
"Dum" will ignite Mars. It will empower you with strength and courage.
"Dur" will please Mercury. It will bestow you with intellect.
"Ga" will invigorate Jupiter. It will boost your knowledge, spirituality, wealth.
"Yei" will empower Venus. It will help you increase overall happiness.
"Na" will appease the Saturn.
"Mah" will  appease Rahu and Ketu.
With Ganesha's Grace, 
The GaneshaSpeaks.com Team 
Have some queries in your mind regarding certain areas of life? Then, why continue to remain in doubt. Talk To Astrologer now for expert guidance and smart solutions!
---
---
Get 100% Cashback On First Consultation