For Almighty's blessings, celebrate Dattatreya Jayanti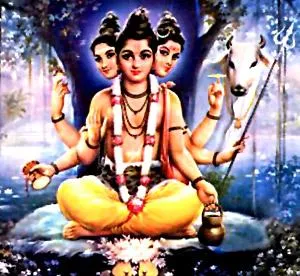 The full-moon day in the month of Margasheersha is celebrated as Dattatreya Jayanti. Hindus believe that the famous sage Dattatreya, was born on this day.
Dattatreya is believed to be the incarnation of Lord Vishnu. According to the  'Harivansha Purana' and 'Vishnu Purana', Atri, the writer of a number of vedic hymns, did severe penance. This invoked Brahma, Vishnu, and Shiva to partially incarnate themselves in the womb of his wife Anasuya. Thus were born their three sons, Soma (Moon), Dutta, and Durvasa. One can find a mention of this event in the Mahabharata as well.
This day is mentioned as Dattatreya Jayanti in the Skanda Purana too. Dattatreya was named as Dutta but as he was the son of sage Atri, he is known as Dattatreya. A great exponent of music, he modified the stringed instrument, Veena. The modified version is now known as the Dattatreya Veena.
To commemorate the birth of this great sage, people perform pooja and take out a procession on the Margasheersha purnima day. This year, the day falls on 1st December. Like the 'Shree Vishnu Sahasranaam' which is fully devoted to Lord Vishnu, there is another popular Sahasranaam called 'Shree Dattatreya Sahasranaam' to worship Lord Dattatreya.
Given below are a few of the 1008 names of Dattatreya.
Digamvarang Bhasmavilepitaangang Bodhaatmakang Muktikarang Prasannam,
Nirmaanasang Syaamatanung Bhajehhang Dattaatreyang Brahmasaamaadhiyuktam.
Those who worship Shree Dutta with "Panchopachaar Pooja" in the month of Margasheersha, get special blessings of the Almighty.
Attract Good Luck With Your Personalised Horoscope On The Auspicious Day Of Dattatreya Jayanti ! – Talk To Expert Astrologer Now!
With Ganesha's Grace
Celebrity Astrologer
---
---
Get 100% Cashback On First Consultation